As I write this, it is currently 70 degrees out. We have a projected high of 72 today. In Minnesota.
I mean, yeah, we got eight inches of snow in the cities two weeks ago but that's all gone now. We're even planning on going on a hike after the intern wakes up.
It does not look like winter outside. But the snow predicted for Tuesday will (hopefully) change that.
I'm here to break the news to you that winter has officially begun. How can that be when the Winter Solstice is 6 weeks away?
Well, because it's the Beginning of Winter seasonal node, my friend.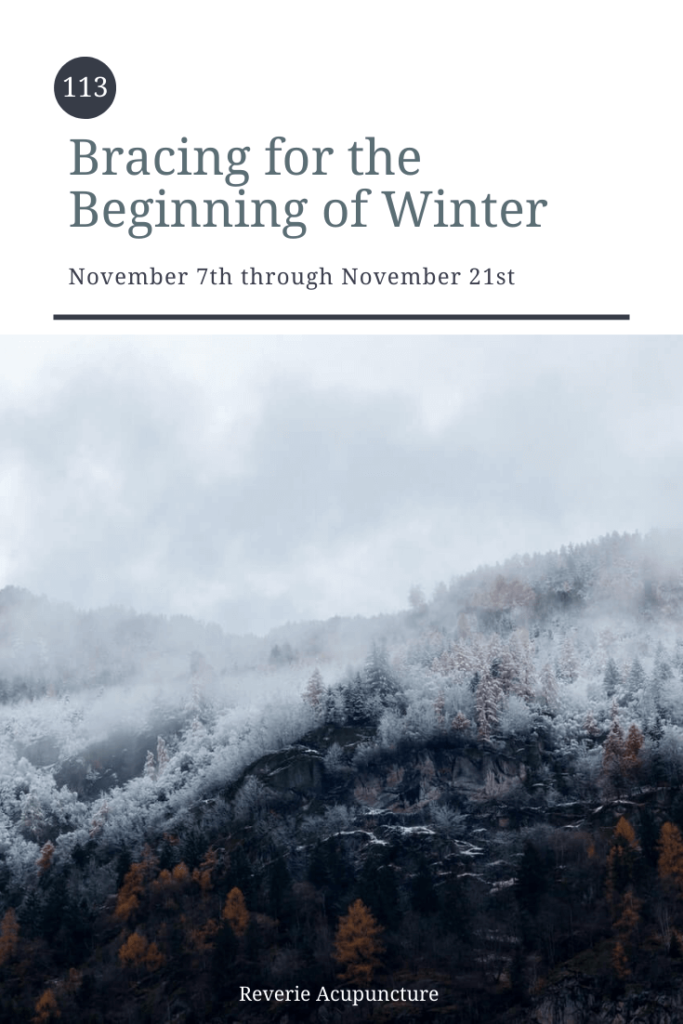 The information in this post is for general purposes only and does not constitute medical advice. This post does contain affiliate links, for which I will receive a small commission at no additional cost to you. For more information please see my privacy policy.
So, what is a seasonal node?
A seasonal node is a two week period of time during which we expect to see certain movements in the world around us and within our bodies.
In Chinese Medicine, these expectations give us the opportunity to take specific actions to support overall wellness and prevent illness in the coming months.
So, how can it be winter if we aren't to the Winter Solstice yet?
Because the Huang Di Nei Jing has this to say about the seasons:
The heaven has eight weather terms (i.e. the Beginning of Spring, the Spring Equinox, the Beginning of Summer, the Summer Solstice, the Beginning of Autumn, the Autumnal Equinox, the Beginning of Winter and the Winter Solstice), and the earth has the distribution of the five elements to be the guiding principle to breed all things.

Huang Di Nei Jing Su Wen Chapter 2
The Huang Di Nei Jing is basically the 2,000 year old Merck manual of Chinese medicine. According to it, if you map out the eight weather terms on a diagram of the year, you get this.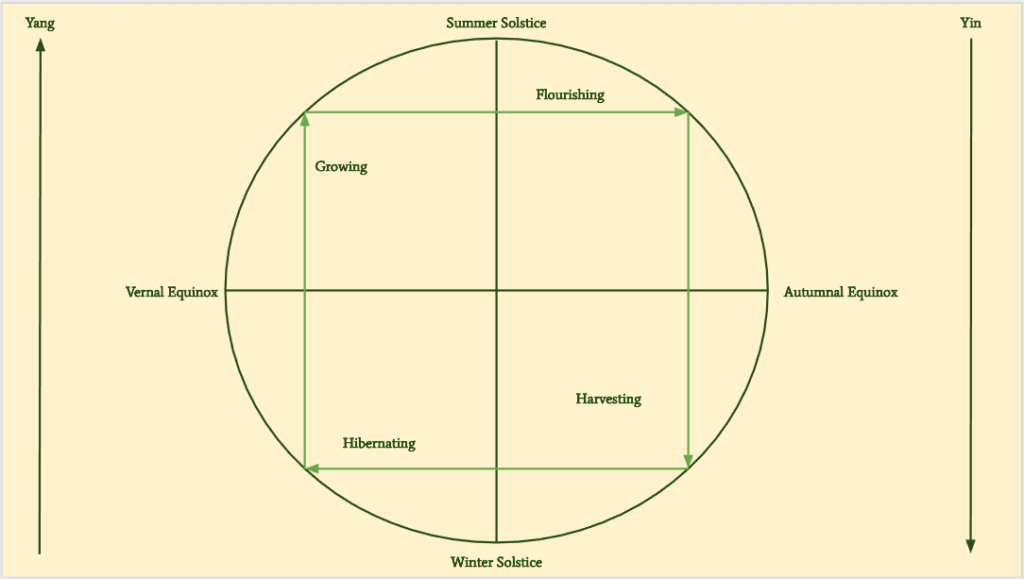 And right now, we're at the junction of the end of the season of harvest and the beginning of the season of hibernating.
The Beginning of Winter Seasonal node – 立冬
The Beginning of Winter seasonal node is called 立冬 or lì dōng in Mandarin. It is the first seasonal node of Winter.
It runs from November 7th to November 21st. Many places haven't even seen snow yet, but cold rain and high winds is reason enough to start implementing the traditional recommendations of this seasonal node.
Recommendations for the Beginning of Winter Seasonal Node
Some of this stuff will sound ridiculous when it's 70 out, but temps are predicted to plummet over the next week. Hopefully, warm weather at this time of year won't become a regular thing and this blog will be more immediately useful in coming years.
When that wind, rain, and snow comes back keep these things in mind:
Pull out and wear your cold weather gear
This is the Reverie Acupuncture Cold Weather Clothes Mantra – hats, socks, scarves, and sweaters! Wearing cold weather gear helps to protect yang. A general rule of thumb for all preventative medicine is to not make your body work harder than it has to. That includes basic functions like keeping you warm.
Use food to support your yang
Build your yang with nourishing and warm foods – animal products, soups, and stews are generally recommended but everyone can also kick their warm spices up a notch, adding ginger, cinnamon, onions, and garlic to vegetarian and vegan dishes⁠.
A general rule of thumb is to 1) eat what sounds good (like chilis, soups and stews) and 2) to use spices that are used in seasonal and traditional foods.
But don't only eat hot and spicy foods – balance with fruits, vegetables, and grains for a balanced diet.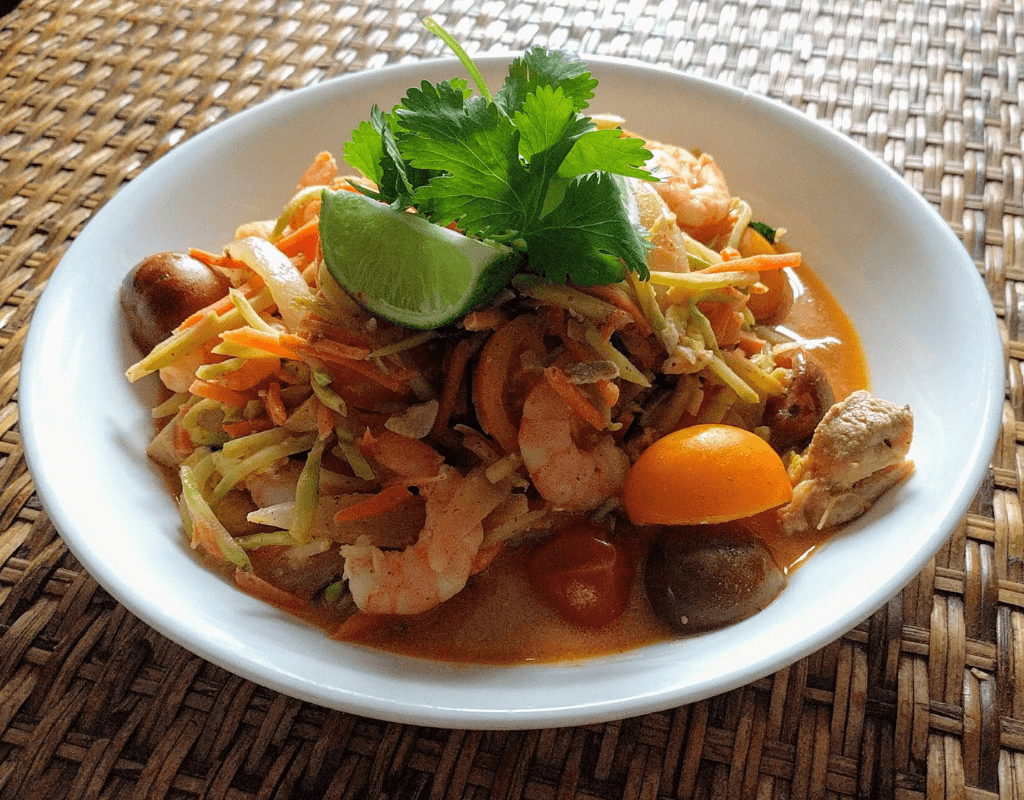 Focus on your foundation
Focus on your foundation: protect your kidneys by not over-extending yourself. This is not the time of year of aggressive workouts, sleep deprivation, partying, or excessive overtime.⁠
There is a traditional admonition against overdoing sex, too. But what defines too much sex?
It is hard to tell if that was a religious addition to the texts or not. In general, if you're feeling fatigued every day, forcing yourself to have sex when trying to conceive is not a good idea. The same goes for general fatigue. Give yourself a break.
Find other ways to build kidney energy
Building your kidney qi, kidney yin, and kidney yang could be as simple as tweaking your diet and wearing more layers.
Or, it could be more complicated.
Other ways to build kidney energy include:
kidney tonics, as prescribed by your practitioner
acupuncture
moxibustion
qi gong
meditation
You don't need to do much every day to make a huge impact. In fact, I created the DEPTH meditation guide for patients who didn't have much time every day but wanted to boost their kidney energy as part of their treatment plan.
I based this meditation guide off the kidney and water meditations I give patients while they are on the table or to take home for homework. It's an easy to memorize meditation that can be fit into your lifestyle.
It can be a 60 minute meditation, you can visualize while you do dishes or as a quick reset between Zoom calls.
Pick up your copy today by clicking the button below.
Resources and Links
Previous winter posts and other related posts
Season of Stillness
Winter Solstice
Small Cold
Great Cold
Water Element: Foundations in the Depths
Kidney Yang Disharmonies
Kidney Yin Disharmonies

Acupuncture 101: How to Talk to Your Acupuncturist
Featured Image and Cover Photo by Eberhard Grossgasteiger via Pexels
Disclaimer: I am an acupuncturist in the state of Minnesota, and the information falls within my scope of practice in my state. However, unless I have directed you here as your homework I am probably not your acupuncturist. The information in this post is for general purposes only and does not constitute medical advice. As always, check with your own acupuncturist or primary care provider before making any lifestyle changes. This post does not create a patient-practitioner relationship and I am not liable for any losses or damages resulting or relating to the content in this post.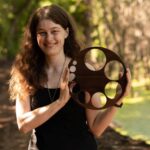 Jessica Gustafson is a licensed acupuncturist in St Paul, MN specializing in women's health and fertility. She loves working with patients through the Health Foundations Birth Center on Grand Avenue in St Paul and doing home visits in the Twin Cities area. Check out the services page for more information!
​
​Follow Reverie Acupuncture on Facebook, Pinterest and Instagram for updates! Please follow and like Reverie Acupuncture!