Today's blogtober post is an experiment! I am going to be posting parts of the newsletter to the blog going forward. What better time than the harvest season than to test what is working for the blog, amirite?
Why this experiment?
Because a lot of my patients aren't signed up for the newsletter and they're missing out on a lot of exciting updates like this one. What am I so excited about? Scroll to find out!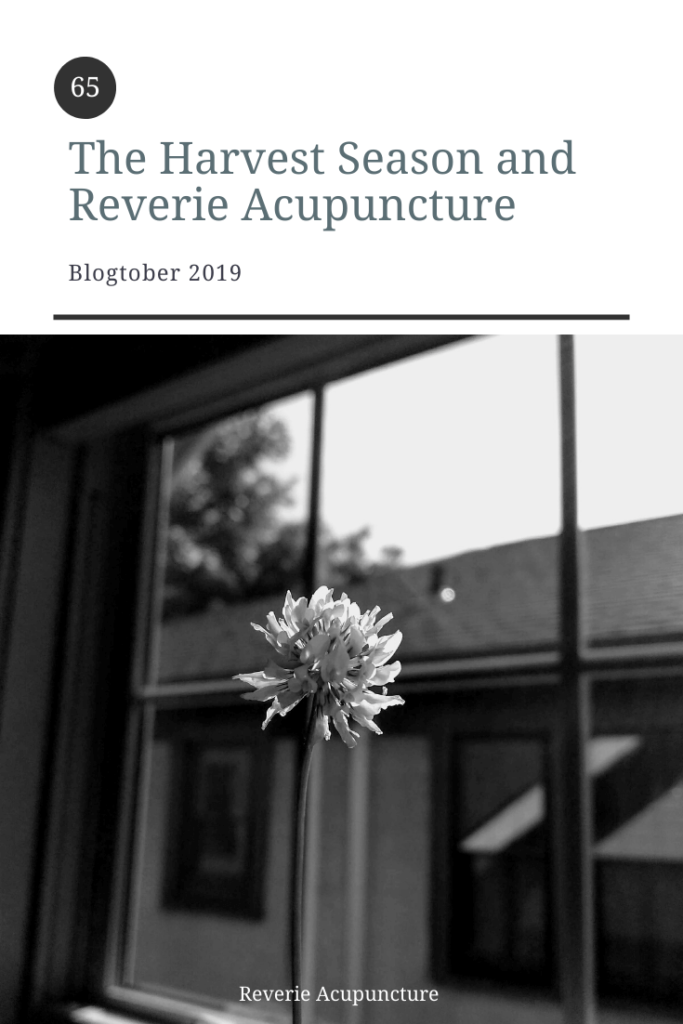 The information in this post is for general purposes only and does not constitute medical advice. This post does contain affiliate links. For more information please see my privacy policy.
Drumroll, please…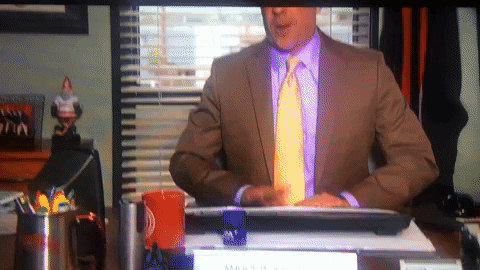 Reverie Acupuncture is expanding!
I am super excited to announce that in addition to community acupuncture in the St Paul Health Foundations space I will be offering private services in the Naturally Well Collective in White Bear Lake, MN.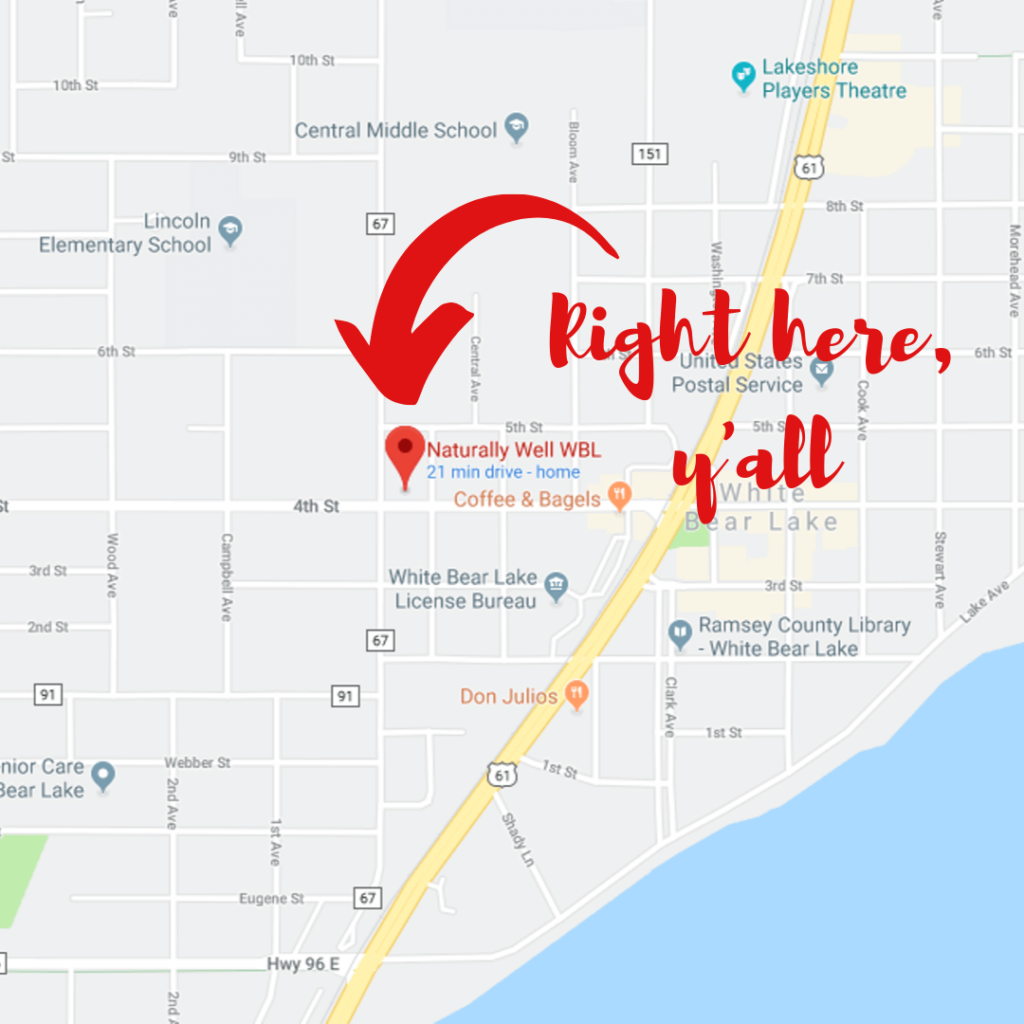 HOORAY!
This means a few things:
Private treatments
Starting Saturday, November 2nd, private treatments will be available in the Naturally Well space!
These will include:
acupuncture
diet therapy
herbal therapy
moxa
cupping
and, reiki
If you would like to get on the schedule click here!
Massage
I know that you're all super excited about massage and I really want to offer it! However, there is a process I need to go through with the city of White Bear Lake that may take up to a month, so massage won't be available immediately.
But the good news is that there is that the clerk thinks it's a no-brainer and I just need to get my paperwork in order. Massage will happen at the Naturally Well location (99.9% sure).
Established patients
Hooray! You don't need to do anything. After almost two hours of figuring out the new Acusimple UI through trial and error I was able to successfully share your patient files with the "new" practice I had to create for the second location.
This means if you're seeing me for a private moxa treatment, cupping treatment, herbal consult, reiki session, acupuncture, diet consult – whatever – you shouldn't have to fill out any additional paperwork.
However, this does mean that the financial policy is being updated again. But this time it's an update for the new services and their prices which will be listed on the services page.
There is also going to be a more explicit definition of "established patient." An established patient is defined as:
A patient who has attended one (1) private intake appointment or three (3) community acupuncture appointments
If you are a community acupuncture patient from the Health Foundations space with fewer than three (3) community acupuncture appointments and you are wanting a private treatment, we will need to do an initial intake in order to appropriately discuss your history.
This has always been the Reverie Acupuncture definition of "established patient." It's just that up until this point it hasn't been an issue.
Getting back to class
One of my favorite things about this space (besides the absolutely gorgeous fireplace in the community space) is that they have a dedicated room for teaching classes which includes a kitchen.
Food therapy classes anyone?
Even without doing food therapy classes (because they already have a fantastic functional nutritionist named Amber) this space allows me to do my seasonal living classes again. Squee!
They also have a weekly mom's group on Tuesday mornings so you should definitely check it out if you're on the north or east side of the cities.
A gift for you!
For my newsletter subscribers, I am offering a 15% discount for your first private service at the Naturally Well space. I will be sending this out this week and in the next newsletter but it is only good for one service. (If you want to save it until you know you can get a massage, I got you – the expiration is going to be December 31st, 2019 so you should have time.)
Not signed up for the newsletter? You can sign up here!
It's the only place I offer discounts, you get first dibs on downloadables like e-books, infographics, and clinic updates.
And, to maintain the exclusivity of the newsletter, it is the only place I'm going to be discussing healthy habits, regular journal prompts, and more.
If this sounds interesting to you, click the button below to sign up!
Disclaimer: I am an acupuncturist in the state of Minnesota, and the information falls within my scope of practice in my state. However, unless I have directed you here as your homework I am probably not your acupuncturist. The information in this post is for general purposes only and does not constitute medical advice. As always, check with your own acupuncturist or primary care provider before making any lifestyle changes. This post does not create a patient-practitioner relationship and I am not liable for any losses or damages resulting or relating to the content in this post.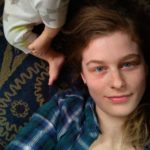 Jessica Gustafson is a licensed acupuncturist in St Paul, MN specializing in women's health and fertility. She loves working with patients through the Health Foundations Birth Center on Grand Avenue in St Paul, at Naturally Well in White Bear Lake, and doing home visits in the Twin Cities area. Check out the services page for more information!
​
​Follow Reverie Acupuncture on Facebook, Pinterest and Instagram for updates! Please follow and like Reverie Acupuncture!