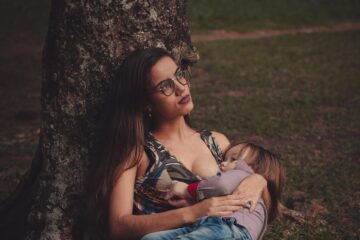 When it comes down to it, boobs really only have one purpose: breastfeeding.
That purpose is not (as was once told to me by my favorite five-year old) "to look like we have boobs." No. It's to feed babies, for as long as we are willing and able.
Breastfeeding is great for both parents and kids. For moms, 2 years of breastfeeding throughout her life is linked to significant decreases in rates of breast cancer. The CDC also reports that breastfeeding reduces the rates of heart disease, Type 2 diabetes and ovarian cancer in women.
More often we talk about the benefits to our babies. Breastfeeding children significantly reduces the rates of Sudden Infant Death Syndrome (SIDS), lowers the rates of colds, flus and ear infections, lowers the risk of asthma, obesity and Type 2 diabetes.
Breast milk is an amazing substance.
So when is it safe to stop breastfeeding? What is the best cut off for mom and baby? The answer is more complicated than you may think.
(more…)