If there has been one comfort during the Corona-crisis it is the constant of change.
The natural world's impetus for change can't be denied or prevented by any being, mammal or virus, on this planet.
Nothing lasts forever and neither will this.
Regardless of everything that's happened since February, the seasons march on. Spring has shifted into summer.
The expansiveness of summer is palpable and now more than ever you have the chance to harness that change for greater health.
But first, a little explanation about why I'm telling you that summer started at the beginning of May.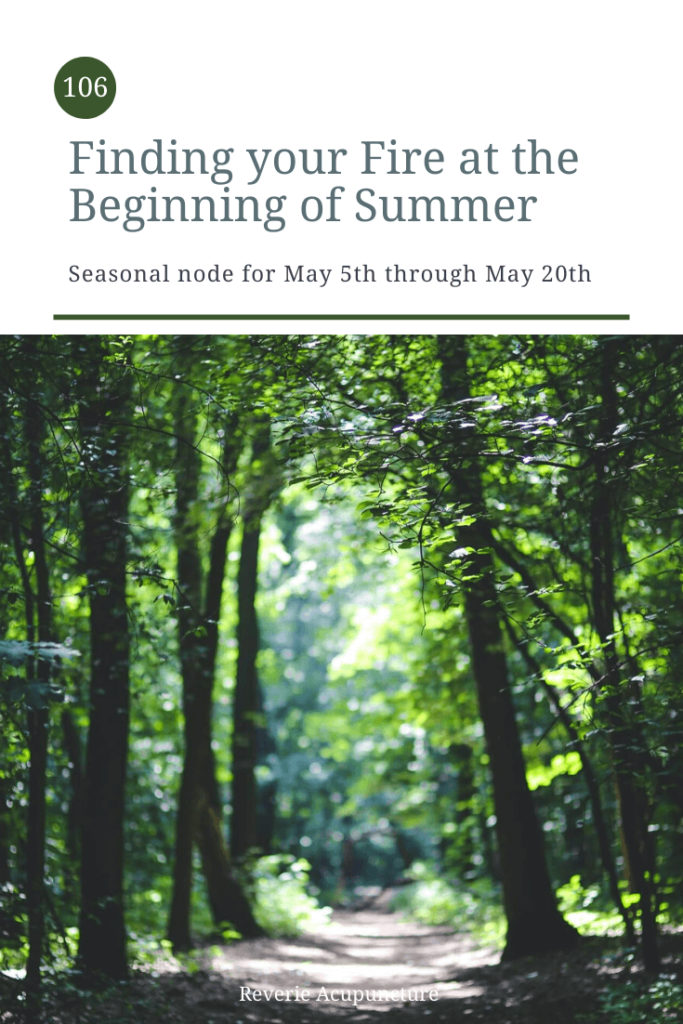 The information in this post is for general purposes only and does not constitute medical advice. This post does contain affiliate links, for which I will receive a small commission at no additional cost to you. For more information please see my privacy policy.
These next two weeks mark the beginning of summer seasonal node. This might seems strange to Westerners who celebrate the beginning of summer on the solstice and won't celebrate the beginning of fall until the autumnal equinox.
In the modern Western calendar, our seasonal shifts happen on the big solar events: the solstices and the equinoxes.
But throughout the centuries, our ancestors and other cultures, including the Chinese, marked them differently. Instead of marking the beginning of the season, the solar events mark the middle.
In the Huang Di Nei Jing, (the 2000 year old Merk Manual of Chinese Medicine) describes the breakdown of the four seasons into 8 "weather terms":
The heaven has eight weather terms (i.e. the Beginning of Spring, the Spring Equinox, the Beginning of Summer, the Summer Solstice, the Beginning of Autumn, the Autumnal Equinox, the Beginning of Winter and the Winter Solstice), and the earth has the distribution of the five elements to be the guiding principle to breed all things.

Huang Di Nei Jing Su Wen Chapter 2
In addition, these eight weather terms are divided into three seasonal nodes: spans of roughly two weeks that are also each divided into three sections called "material manifestations" that are five to six days long.
As you can imagine, it's easy to get into the mathematical weeks when it comes to seasonal living so I like to keep it relatively simple with seasonal nodes.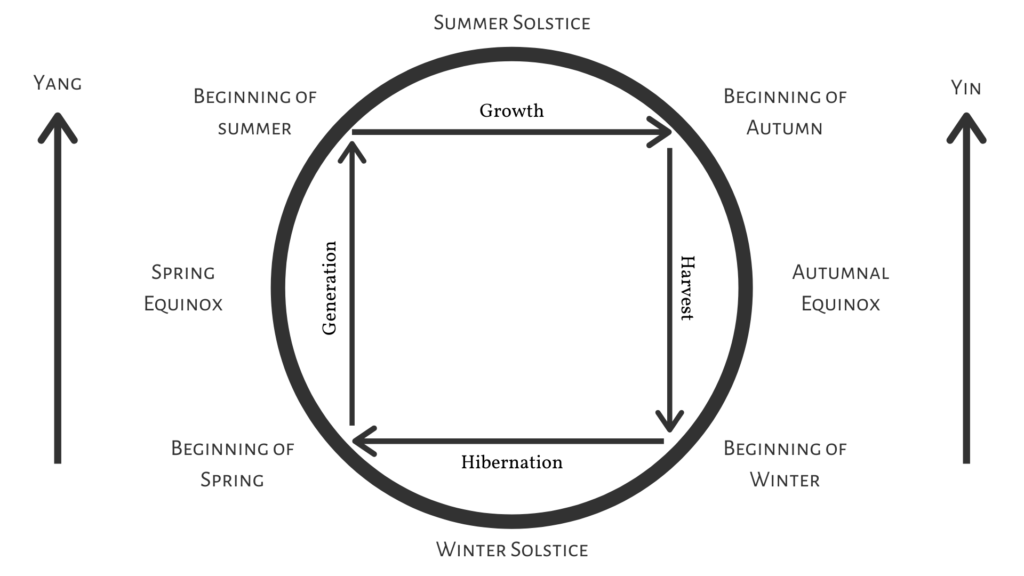 Slow Medicine
There's a motivational saying that floats around Pinterest:
You can do anything for one minute.
In the birth world we like to use this to coach people during a contraction.
I like to think of seasonal nodes as the "minute" of the slow medicine and seasonal resonance world.
What if you didn't have to commit to being healthier for the rest of your life? That you could attempt to make 3-4 healthy changes two weeks at a time?
That's what seasonal nodes help us do. Not only are we committing to changes in our health two weeks at a time, these changes impact us mind, body, and soul.
And for this seasonal node, we start with the heart.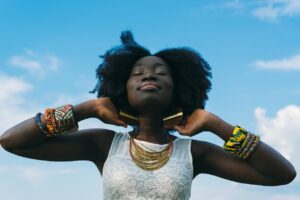 Nourish the Heart
The first major step into summer we take is to nourish the organ of summer. Where the winter had the depth of the kidneys and the spring had the upward movement of the liver, the summer has the expansiveness of the heart.
And just like with these other organs, nourishing it is a combination of minimizing use and maximizing support.
We've already touched on how to minimize excessive use of the heart at the end of spring: mindfulness. In Chinese medicine, the heart is the seat of our consciousness and therefore the source of how we perceive and react to the world around us. That means that the heart is the source of all of our emotions, because am emotion is a reaction to a perception.
It's not that we have to be stoic 100% of the time. Rather, we need to remember that all emotions are meant to be transient and that none of us are built to maintain any emotional pitch for a prolonged period.
The more we practice being in the moment and releasing the emotions that no longer serve us in that moment, the better we will become at it.
Eat for Summer
As with all other seasons, the biggest indicator for what is appropriate for you to eat is what is in season in your area. For those of us in Minnesota these foods will still look fairly springy:
arugula
asparagus
green onions
kale
chives
peas
You know, all the green things.
But now we also want to start incorporating summer foods and fruits. This is the time of year when a Chinese Medicine inspired diet starts to look decidedly vegetarian.
It isn't that meat is inappropriate for the summer. Meat is heavy and warm. Vegetables are light and cool. That's it. It comes down to the energetics. Too much meat in the summer will leave you feeling weighed down and, if over-consumed, inflamed.
Think about eating corn and bean salads, cucumber salads, grilled asparagus – all the light, fresh side dishes we see at cookouts. These are the foods we want to emphasize.
What we want to eat less of is very heavy, greasy, and/or sweet foods – you know – the other half of the cookout equation.
This is where we pull out the age old recommendation of "moderation. It is the over-consumption of these foods that's the issue. Pasta salads covered in mayo, macaroni and cheese, hamburgers, hot dogs, brats – no one thinks these are health foods. But when it comes to holistic health, these foods do have a (reasonable) place in your diet.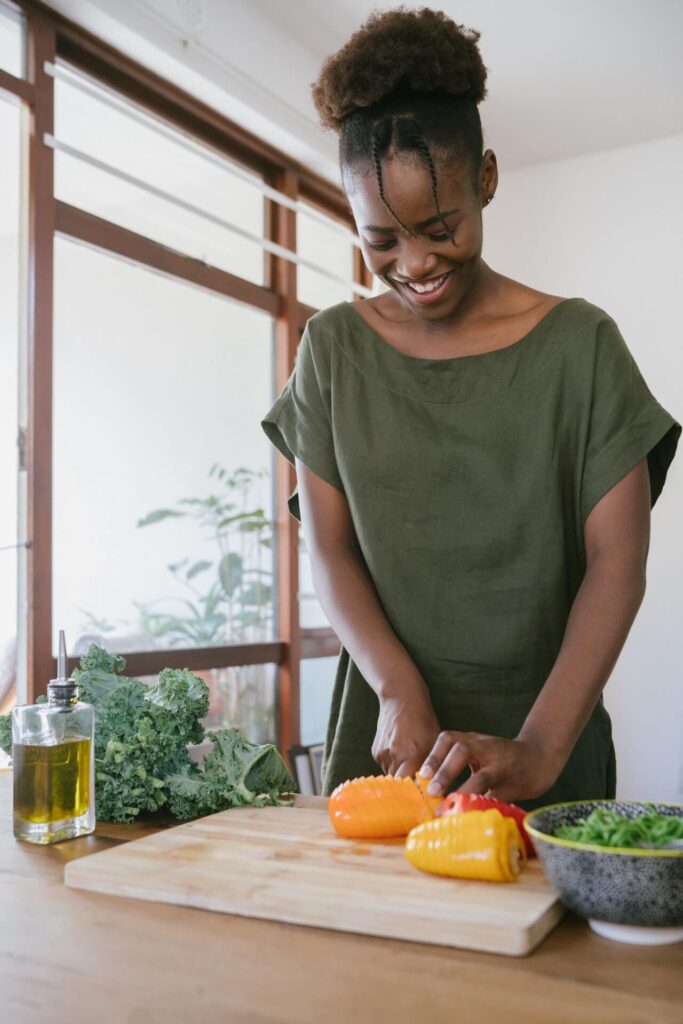 Holistic Hamburgers
Remember that if your goal is to be holistically healthy that does include eating healthy. But even health foods need to be taken in moderation. You can over-eat cooling foods and damage your digestive system. Everybody needs a different balance of dietary energetics – that's what makes this a holistic practice.
My biggest general tip is to treat meat like a side dish and treat the heavy, greasy side dishes like pasta salad and macaroni and cheese as treats.
Fill half of your plate with cowboy caviar, a Greek cucumber and onion salad, and corn on the cob. If you want to be extra sure you can eat holistically at the cookout, bring a dish you know will balance out the other foods you'll be eating.
It's hard to run counter to an established food culture. There will be times you set aside eating holisitcally for a day to fully participate in a party or, let's be real about what a party is about, a community.
And you know what? That feeds something too, your soul.
Community is also an important way to nourish your heart.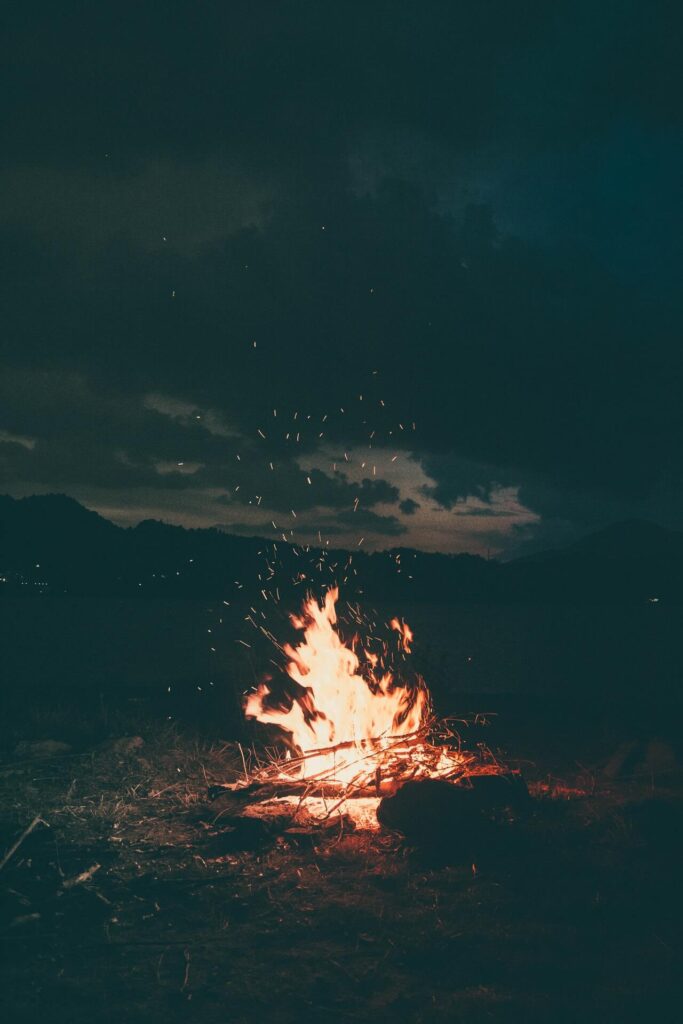 Light a fire
A traditional past time of summer is to have nighttime bonfires. And bonfires are possibly one of the most hygge ways to live seasonally.
In both the East and the West, fire is the element of summer. The Beginning of Summer is celebrated with fire throughout Europe and Scandinavia. This festival is called Beltane, May Day, or Cétshamhain. Depending on where you live, it is traditionally celebrated somewhere between May 1st or May 5th (which is the Chinese Beginning of Summer).
Fires were lit, cattle were driven out to pasture, and people came together as a community to discuss the protection of their area and celebrate the abundance of the year to come.
Even if you don't have these roots with the ritual use of fire, you probably have celebrated summer with at least one bonfire, sitting around some crackling logs with friends and family, chatting away late into the night.
That's the thing about fire. It warms something deep and primal within us. It goes deeper than the skin, driving down to our souls and helps us find our words and our connection.
Whether it's candlelight, the light of a bonfire, or even just switching the bulbs in our lamps to a warmer temperature, warm light nourishes us, body, mind, and soul.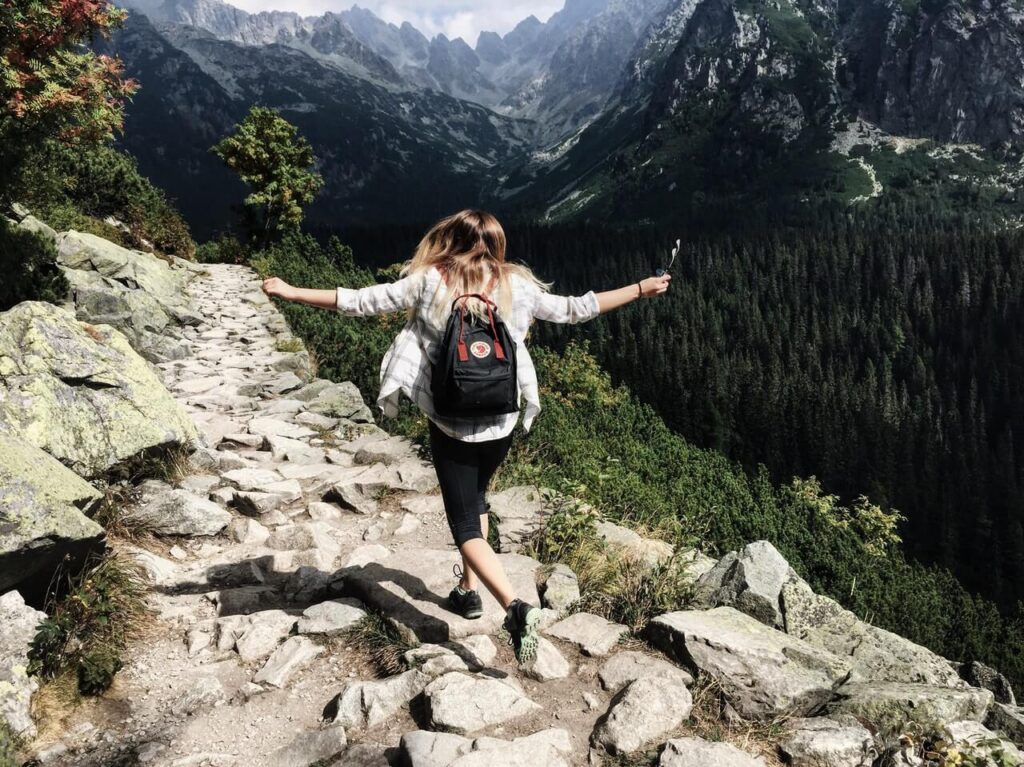 Get outside and move
According to the Nei Jing, we need to do two very important things at this time of year.
Get outside in the sun
Move to the point of sweating
"One should not detest the sunshine….One's sweat should be perspired to release Yang energy and avoid being stagnated."

Huang Di Nei Jing Su Wen Chapter 2
I have – for months – harped on you about making sure to not exercise too hard. I kept promising that if you did your gentle yoga, your tai chi, your brisk walks, and your strength training, the time would come again to make sure to exercise hard and fast.
That time has come.
So long as you have a medical thumbs up and no underlying conditions that would prevent you from exercising hard that you need to address, break a sweat!
Do your difficult gardening work. Hike the Lake Superior Trail. Go for sweat-inducing runs.
When the Nei Jing says that if we don't sweat our Yang energy will become stagnated this implies two things.
First of all, where there is stagnation of any kind there is pain. All stagnation means is that something isn't moving the way that it should and our body signals this malfunction to us through pain.
Yang is also warm or hot by nature. So when yang stagnates it causes heat. What is an overabundance of heat in your body? Inflammation.
We have to make sure that we are regularly releasing any surplus yang to keep ourselves cool and from contracting summerheat (heatstroke).
As long as the temperature isn't ridiculous the best place to do all of this exercise is outside for the amazing double whammy of sweating and vitamin D synthesis.
So, get outside and move!
Conclusion
And that's it!
The seasonal living recommendations for the beginning of summer seasonal node are pretty straight forward.
We should:
keep our emotions even and gently flowing
eat for summer
light fires and build community
exercise outside and to the point of sweating
While these last few weeks have been wild, I hope that the universal constant of change has been a comfort to you, too.
I hope that you can find a way through this comic-book-alternative-universe like world we've been living in by making healthy and holistic decisions, two weeks at a time.
Resources and links
Seasonal food list for Minnesota
Cover image and featured photo by Karolina of Kaboompics.com via Pexels
Disclaimer: I am an acupuncturist in the state of Minnesota, and the information falls within my scope of practice in my state. However, unless I have directed you here as your homework I am probably not your acupuncturist. The information in this post is for general purposes only and does not constitute medical advice. As always, check with your own acupuncturist or primary care provider before making any lifestyle changes. This post does not create a patient-practitioner relationship and I am not liable for any losses or damages resulting or relating to the content in this post.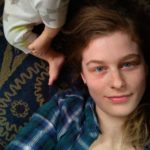 Jessica Gustafson is a licensed acupuncturist in St Paul, MN specializing in women's health and fertility. She loves working with patients through the Health Foundations Birth Center on Grand Avenue in St Paul and doing home visits in the Twin Cities area. Check out the services page for more information!
​
​Follow Reverie Acupuncture on Facebook, Pinterest and Instagram for updates! Please follow and like Reverie Acupuncture!