The slow pace of quarantine life means that there has been a drastic uptick in my reading time.
Pretty much daily, the intern and I will be at the table with our respective pineapple agua freca and black coffee, quietly paging through books.
Mornings are not for talking in the Gustafson household.
Because so many of my patients have been fertility patients this season, most of my books have been focused on hormonal regulation. First it was finally picking up Lisa Hendrickson-Jack's book. This time it was Nicole Jardim's Fix Your Period.
Fix Your Period is a hands-on, six week program that will take you from morosely menstrual to period positive. And it's all because Nicole Jardim has been where you are.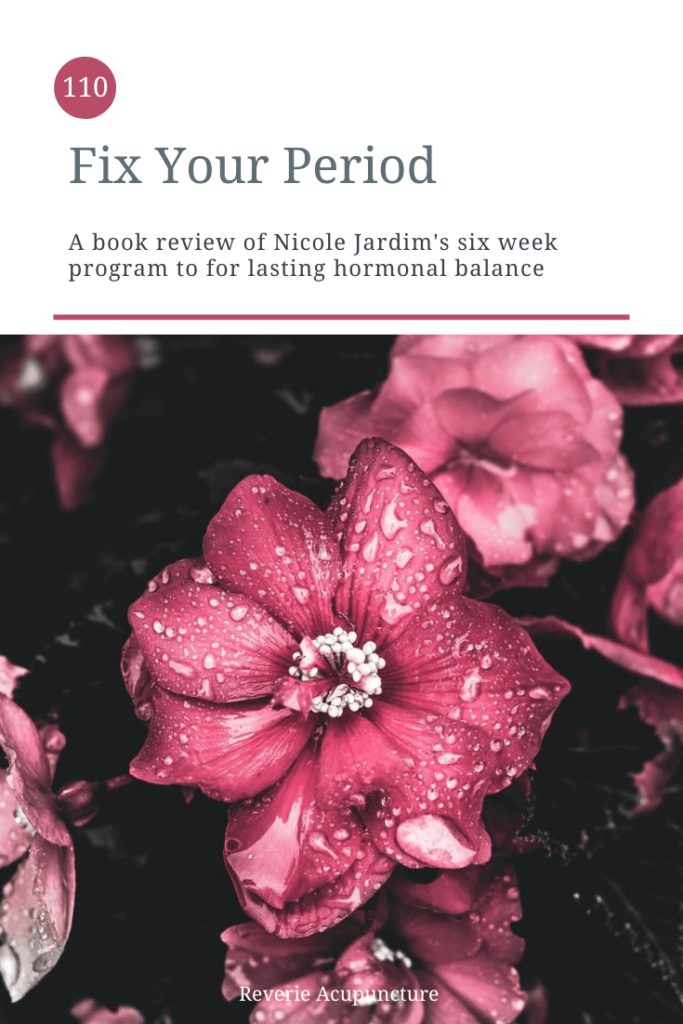 The information in this post is for general purposes only and does not constitute medical advice. This post does contain affiliate links, for which I will receive a small commission at no additional cost to you. For more information please see my privacy policy.
Who is Nicole Jardim?
Nicole Jardim is a Certified Women's Health and Functional Nutrition coach who focuses on menstrual issues because she's had issues. When she was 17 her period decided to go AWOL for months at a time, popping up now and again with a vengence.
No one had answers for her and she dropped thousands on testing which resulted in only more questions and no solutions.
Then, one of her friends suggested an acupuncturist (awww, love from my profession Nicole's friend <3) and Nicole's life finally changed for the better.
One holistic change led to another, and her journey for her own health became a mission to support others through this same change. This cascade of commitment to womb wellness and holistic health culminated in a career as a women's health coach and ultimately, this book.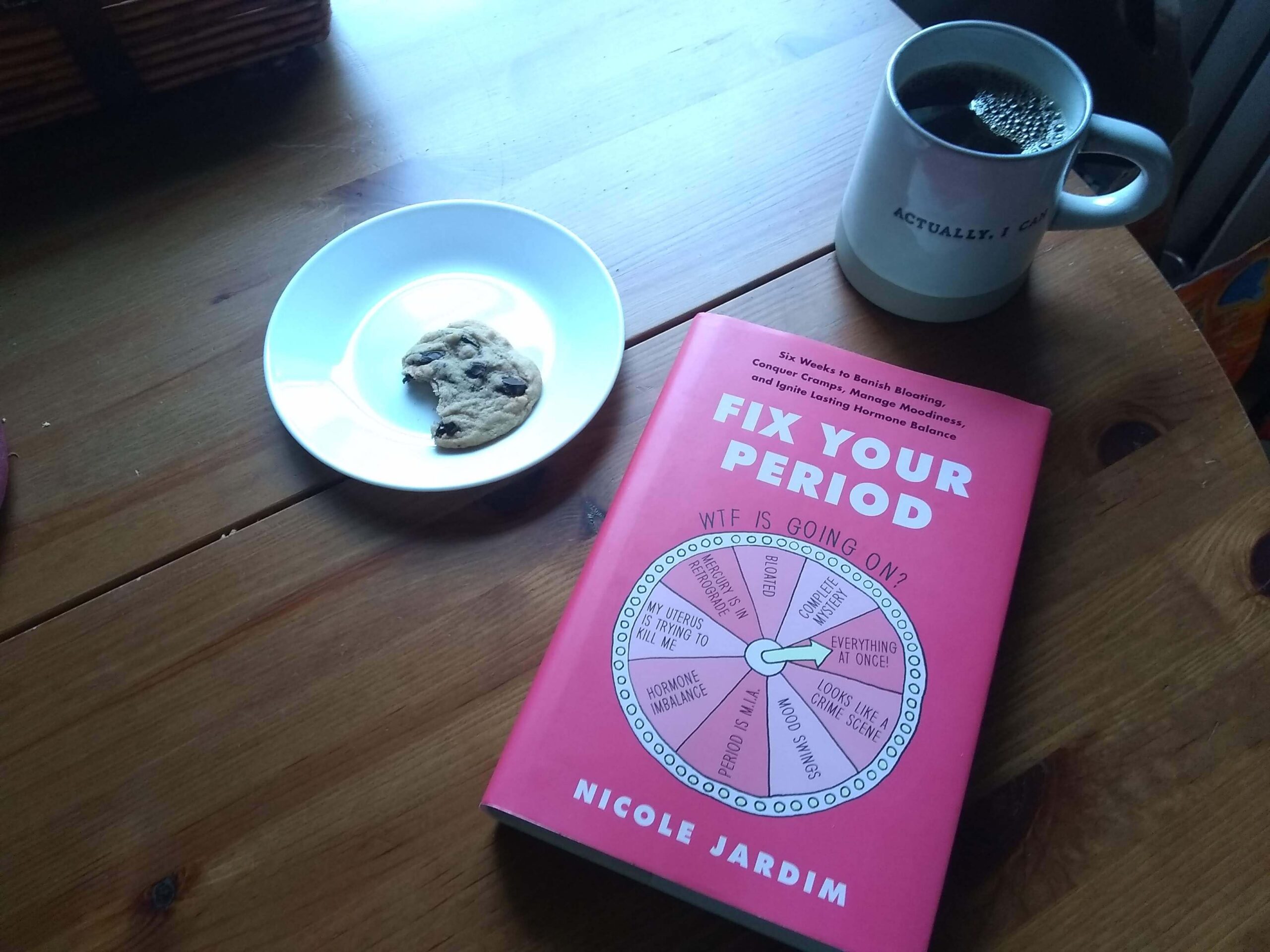 What's this book about?
This book teaches you how to look at your cycle based on your signs and symptoms.
I talk a lot about using BBT charts and cervical mucus to track our periods, but unlike with Lisa Hendrickson-Jack's book, Nicole teaches less about charting and more about how our cycles change over the course of our lives and what different abnormalities and irregularities may mean in terms of our overall health.
After this introduction to our cycles, she does a deep dive into a 6 week program to address those abnormalities and irregularities, completely with recipes, supplement recommendations, and testing suggestions.
How approachable is this book?
I love this book because of its clear, concise language regarding the menstrual cycle. And even with all of the studies, data, and hard facts about our cycles Nicole keeps it accessible. It doesn't matter if this is your thirtieth book on menstrual health or your first – you will find it easy to understand.
How sustainable is the six week program?
Ideally I don't review a book that includes a program until I've had a chance to review the program, but Planet Pandemic isn't an ideal world.
Unfortunately the second step of the program involves buying a blood glucose meter and strips which, while I am really excited to experiment with, are in really short supply because of COVID. I cannot justify taking testing strips off the shelves and away from people who need them to satisfy my own curiosity about my body.
Instead, once the world is a bit more level, I'll attempt the program.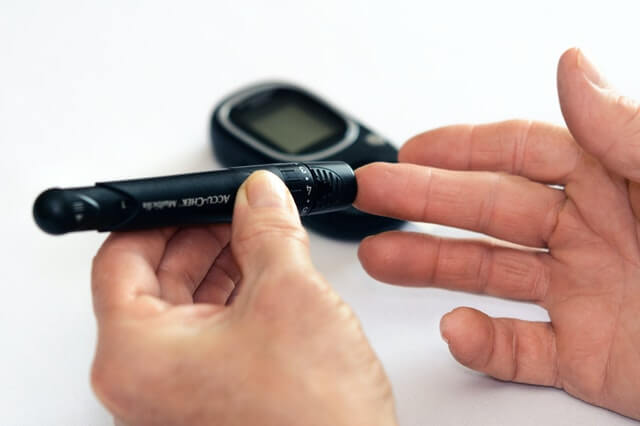 It's not cheap
I will say this: unlike with many programs in books like this, there is an investment that goes beyond your kitchen cupboads.
Supplements, the blood glucose meter, the testing strips, the changes to your cleaning supplies and lifestyle, and the recommended testing will likely all come out of pocket. Even though this is some of the best preventative medicine out there, the American health care system is notoriously reactive and your health insurance will likely not cover the bulk of these changes.
To this I say the same thing I say about all preventative costs: the upfront, out of pocket expense will pay for itself tens – even hundreds – of times over. I 100% believe that the knowledge you will glean from this program will serve you for the rest of your life.
Why do I believe that? Because…
…Week One is already in the bag
I have regularly implemented the recommendations from week one and I noticed an immediate improvement in my overall well-being.
As a practitioner, many of the things listed are things I knew I should do but really needed to be reminded about and my body is thanking me.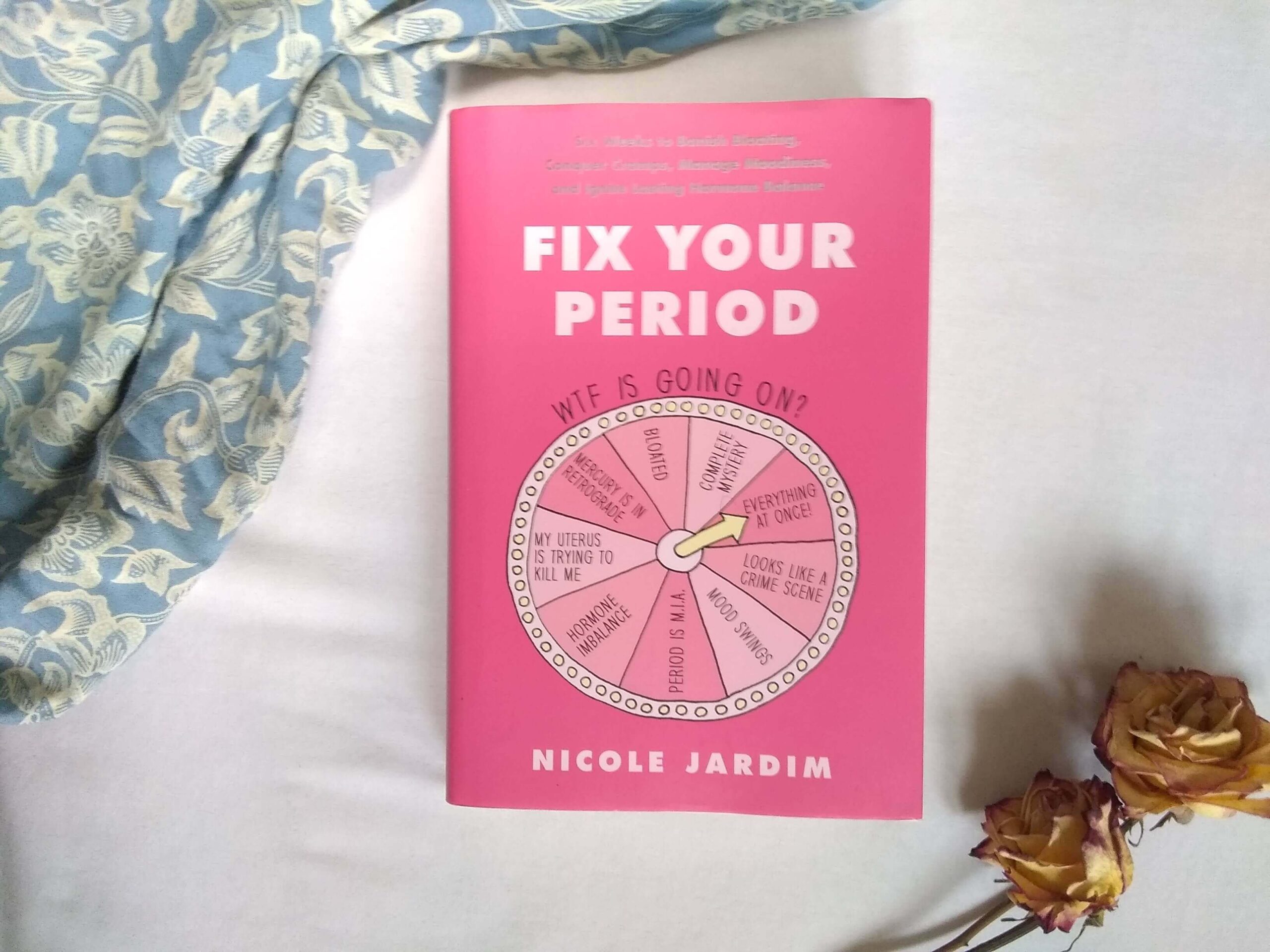 You should absolutely buy this book if…
you have a uterus
you don't have a uterus but someone you care about does
you menstruate
you don't menstruate but you have a uterus
you are thinking of trying to conceive in the next 2-3 years
you have no idea if your period is normal
your periods are uncomfortable in any way
you want to experience an overall feeling of well being that starts with some go ol' holistic womb care
You should skip this book if…
you don't have a uterus and aren't interested in holistic womb care
you may be put off by a medical text written in informal language
I mean, that's kind of it. I think everyone could benefit from this book because we do not talk about nor understand menstruation enough.
How would I rate this book?
I honestly loved this book. 5/5.
Nicole approaches holistic womb wellness in a down to earth and congenial way. The way Fix Your Period is written, I honestly felt like I could sit down at Caribou with her and chat over coffee.
Nicole walks you through the basics of not only your menstrual cycle, but the complicated world of hormonal cascades and breaks down the steps you need to take to support your holistic health into a simple, six week program.
Just like how Lisa Hendrickson-Jack's book became a constant for my future private clinic shelves, so too has Fix Your Period.
If you are wondering what your body has been trying to tell you, this may be the key you need to turn your symptoms into effective communication. You can pick up your copy through my affiliate link below:
What is Bookshop? Bookshop is alternative to Amazon that sources all of its books through independent booksellers. It's a way to support three small businesses: the bookstore Bookshop gives commission to for the book, the author, and me through a small, affiliate commission that doesn't impact your price at all. Support small businesses! Buy through Bookshop.
Resources and links
Nicole Jardim – The Period Girl
Buy Fix Your Period with this Bookshop affiliate link
The review of The Fifth Vital Sign by Lisa Hendrickson-Jack
Featured image and cover photo by Mark Arron Smith from Pexels
Disclaimer: I am an acupuncturist in the state of Minnesota, and the information falls within my scope of practice in my state. However, unless I have directed you here as your homework I am probably not your acupuncturist. The information in this post is for general purposes only and does not constitute medical advice. As always, check with your own acupuncturist or primary care provider before making any lifestyle changes. This post does not create a patient-practitioner relationship and I am not liable for any losses or damages resulting or relating to the content in this post.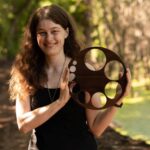 Jessica Gustafson is a licensed acupuncturist in St Paul, MN specializing in women's health and fertility. She loves working with patients through the Health Foundations Birth Center on Grand Avenue in St Paul and doing home visits in the Twin Cities area. Check out the services page for more information!
​
​Follow Reverie Acupuncture on Facebook, Pinterest and Instagram for updates! Please follow and like Reverie Acupuncture!