My husband and I had to pack a birth center bag. Fortunately, we are list makers and preppers. Literally at this moment my husband is telling me how he's going to consolidate all of our travelling gear while I'm gone so that we just need to go through it tomorrow morning. Hooray organization!
We were like this for the birth too, but almost everything we found for prepping for a birth was geared to a hospital birth. In hospital births, you need to plan to be there for a couple days. This means packing entertainment things, extra changes of clothes – so much stuff.
Birth centers are much more simple. I went into active labor at 5, my daughter was born at 9:30 and we were home by 2. So much less time away from home. As you can imagine, a birth center bag will look much different than a hospital bag – you just don't need as much. Depending on the birth center, there may be additional things you're allowed to bring that a hospital would not allow.
I wanted to share with you what we couldn't find – a list of what to pack for the short trip. Feel free to download your copy of the checklist here.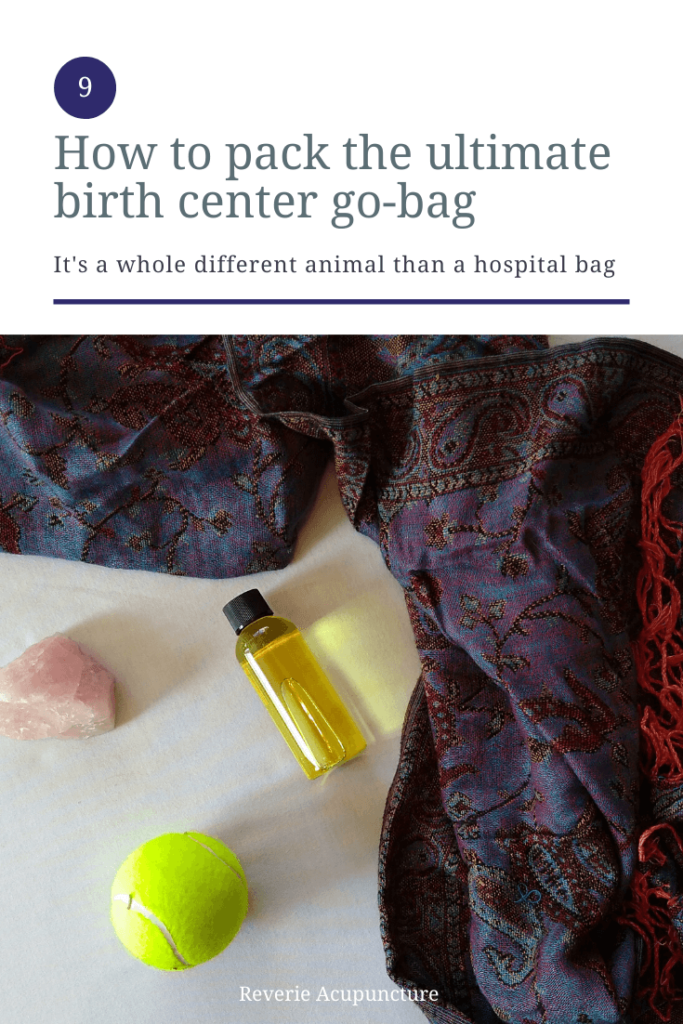 The information in this post is for general purposes only and does not constitute medical advice. This post does contain affiliate links, for which I will receive a small commission at no additional cost to you. For more information please see my privacy policy.
Birth Center Bag for Mama
Birth plan
Bring a hard copy of your birth plan. Ideally you've discussed your plans with your birth partner, your midwife and every one else involved but in the event of a transfer it's a good idea to bring one along.
Birthing clothes
Some women plan out their outfits, some women buy fancy birthing gowns. Me? I brought my frumpiest top and a maxi skirt full of holes. It's not like it stayed on long anyway. Emphasize comfort. If, for you, comfort also means looking good, get a labor dress.
If you may be having a water birth bring a swimsuit top. You probably won't care too much about modesty in the moment, but it's nice to have in case you do want it.
Also bring a cardigan, you may get chilly.
Hair ties
Your hair will get everywhere and in the best of moods I hate it in my face.
Going home clothes
Bring a set of clothes for you to go home in. Don't bank on being able to leave the birth center in your pre-pregnancy clothes. Depending on their cut, you may be able to swing it, but chances are you will still look about six months pregnant. Make sure to include your nursing bra!
Nursing Bra
While finding a well fitting nursing bra should definitely be on your to-do list, having a loungey nursing bra or at home comfy one may be a good idea. Going braless is best for circulation in your breasts but for some of us that's not an option. So pick up a couple comfy nursing bras to put in your go bag and you'll be all set to leave supported. (affiliate link)
Snacks and drinks
Chances are since you're not in the hospital you'll be allowed to eat. My midwife recommended honey sticks which we didn't end up bringing, but we did bring the recommended energy bars. I also highly recommend the flavored applesauce pouches meant for kids that you suck the sauce out of. The less effort that is involved with any part of this process, the better.
We also brought juice boxes for the sugar boost. You can make your own laborade but that becomes a delicate balance of "when will I go into labor" and "when will this go bad."
Water bottle with a straw
The straw is important. You would be amazed at the amount of effort sitting up to drink takes. Much better to drape yourself over the side of the tub and drink out of a bottle or cup that someone else is holding.
Toiletries
If you are having birth photography done you may want to bring makeup and hair stuff for the after pictures. Me? I just went with "hot mess".
Since you don't know how long you'll be there, bringing your toothbrush and some deodorant probably wouldn't be amiss.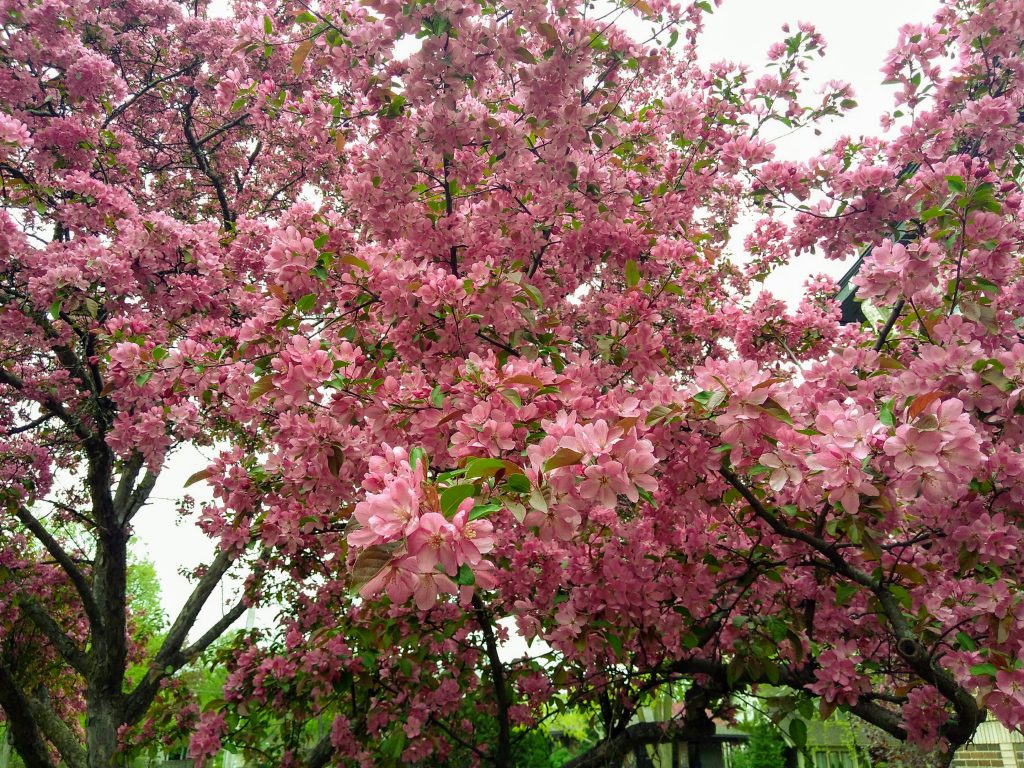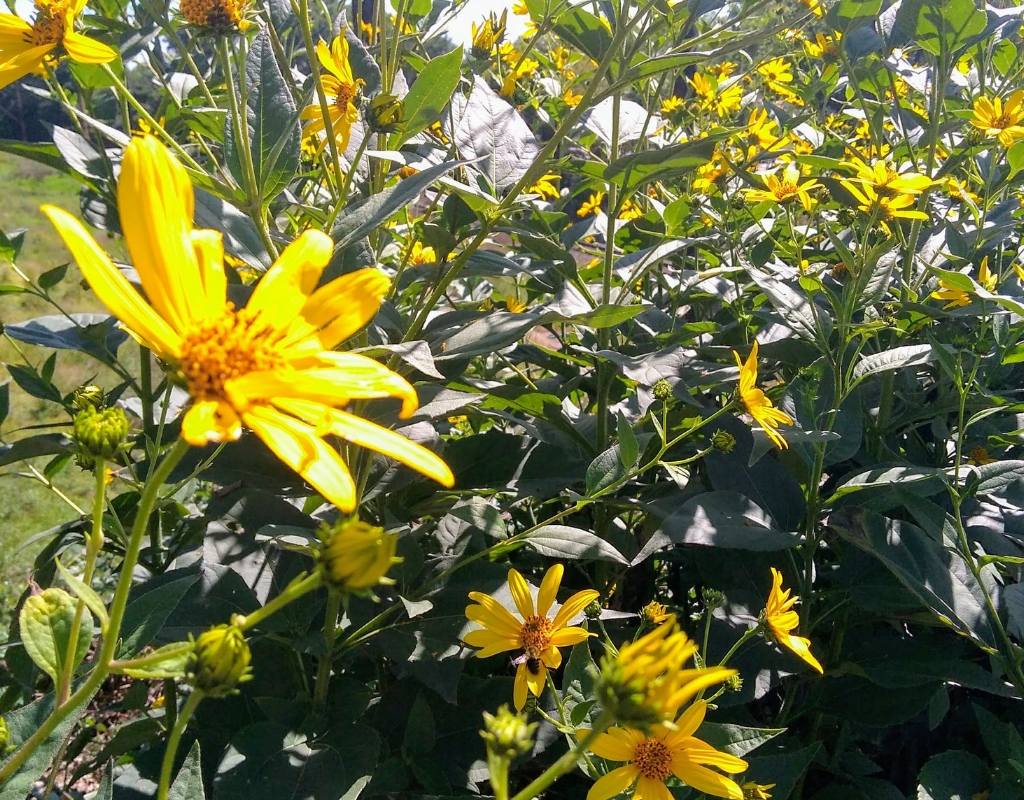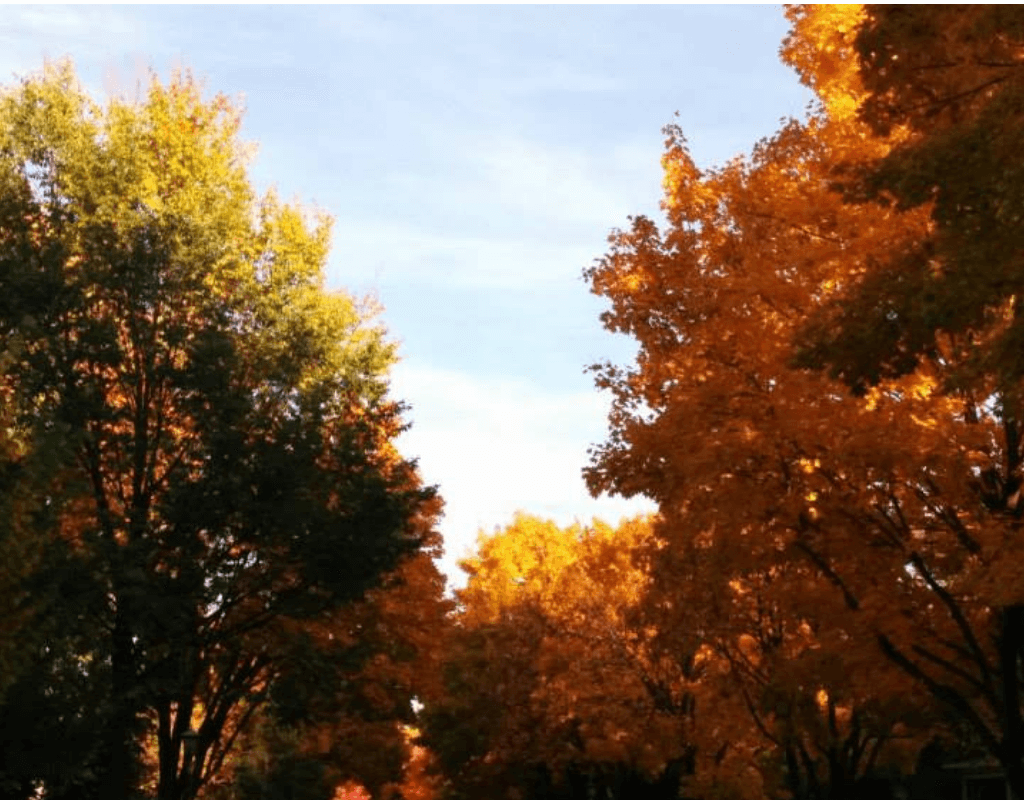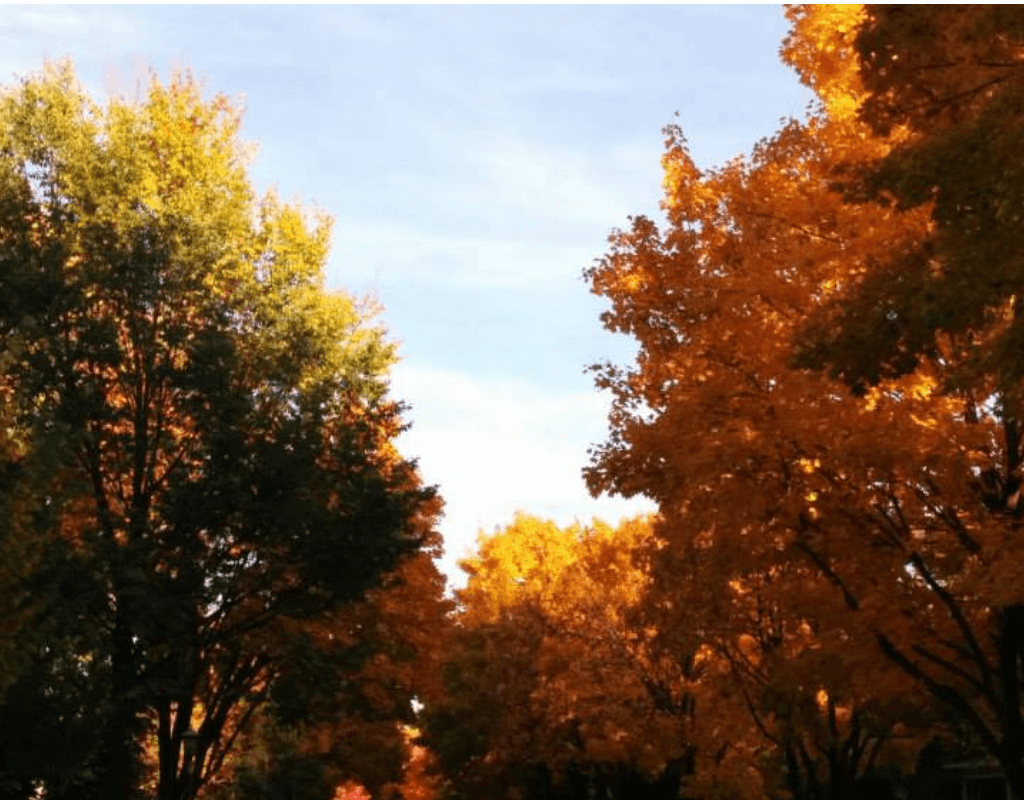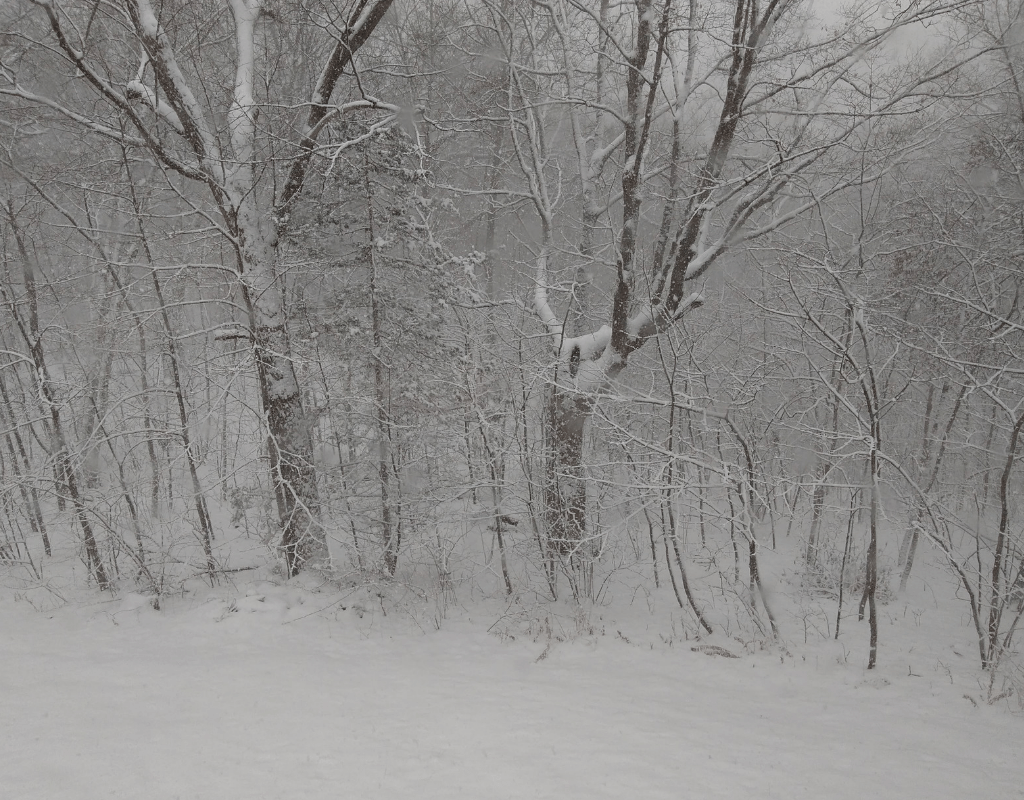 Birth Center Bag for the Birthing Partner
Snacks and Drinks
You need to eat too. Part of a doula's job is to remind the birth partner to take care of themselves. It's easy to get caught up in helping your partner but you need to stay hydrated, satiated and alert. You can't pour from an empty cup.
Note from Mr. Gustafson: If you are a coffee drinker, find a way to get your caffeine. The caffeine headache you will wake up with is definitely going to detract from enjoying time with your new family. Send the doula for coffee.
Swimsuit
You may want to get in the tub with your partner. It's better to be prepared.
A change of clothes
You don't know how long you're going to be at the birth center. Bringing at least one change of clothes can help you feel human again after (potentially) being stuck at the birth center for over 24 hours.
Toiletries
Your partner will probably insist that you stop breathing in her face, why is your breath so bad?! It's probably not, but her sensitivity to smell is heightened and she probably wants to throw up. Bring a toothbrush and some deodorant. Mint gum would probably not be amiss.
Birth Center Bag for the Baby
This isn't an item that you want in your birth center bag, but it is something that you should have done by 36 weeks for sure:
INSTALL YOUR CAR SEAT
My midwife told me over and over again that this needed to happen. Too often she saw papas having to go back home and get the car seat. Installing a car seat when you want to be bonding with your baby is a really depressing thought.
Why install the car seat so early? Because you might have a line jumper. It's better safe than sorry, so follow the same guideline as packing the birth center bag – have it done by 36 weeks. My husband and my dad installed ours two weeks before our daughter came. It was such a relief to not have to worry about it.
A receiving blanket or two
The birth center will probably have one, but you can't take it home. Plus, yours are probably softer and cuter.
Newborn shirts
Please note that I'm not suggesting a onesie. We brought onesies and as we were putting them on our daughter we realized all of them bugged her umbilical stump. We ended up not fastening it so it flopped everywhere.
We swore up and down that next time we would bring newborn shirts instead. (affiliate link) My daughter ended up living in these for two weeks.
One note about any clothes you bring: you have no idea how big your baby is going to be. It's very hard to estimate from ultrasounds and if your birth center only does one ultrasound halfway through pregnancy you could have a 7 pound baby or a 10 pound one. We brought two different sizes (which were both still too big.) So while you're packing, keep that in mind.
Pants
Unless it's the heat of summer you probably want to add a pair or two of pants. Just remember to roll down the waistband so it doesn't irritate the umbilical stump.
Hats
Same as with the pants, unless it is very warm out you may want to consider a hat even if it's only while you're inside with air conditioning running.
Any weather appropriate coverings
If it's cold out, consider a carrier cover.
Diapers
You may get diapers from the birth center, you may not. Bring a few just in case.
Olive oil or coconut oil
If you rub a bit of olive or coconut oil on the baby's bottom before you put them in the diaper the meconium won't take 3000 wipes to come off.
Incidentals
Plastic bag
For any wet clothes. I never ended up wearing my swim suit. I was so focused on that tub I went in with my shirt still on. Either way, if you're having a water birth you will probably have something wet that will go home with you.
Waterproof liner for the car ride
Some women recommend a towel on top of a garbage bag to protect the seat. Since my water broke at work my boss gave me one of the puppy potty training pads we use at the massage clinic. That was awesome – no messing around with layers. 10/10, do recommend.
Cash
You don't know how long you'll be at the center and you don't know if you'll be transferred. Bring about $50 in cash for vending machines and pizza deliveries. You'll be happy you did.
Cash also allows you to send the doula for coffee. Just saying.
Phone and other device chargers
The last thing you need is your phone dying just before you get a chance to text your parents about their promotion to grandparent.
Music
All of the rooms at our birth center had iPod docks. Having your own birthing playlist can be nice for early labor. Just make sure that your playlists are 4-6 hours long so you aren't hearing the same few songs over and over again.
Rebozo
If you learned any rebozo techniques in your birthing class make sure to bring one. The birth center may have one but it's best to be able to pull one from your bag instead of sending someone to find one.
Be prepared – pack the bag early
Have your bag packed by 36 weeks. You never know when you may go into labor. 36 weeks is too early for many birth center births but you'd be at least partially prepared for a hospital. And if it's sitting there until 41 week and 6 days, at last it was packed and you're ready to go.
I hope this helped! Make sure do download your Birth Center Go-Bag Checklist from the Reverie Acupuncture resource library so you can mark things off as you pack them.
Good luck on your journey to parenthood! I wish you the best for you and your family. 🙂
Disclaimer: I am an acupuncturist in the state of Minnesota, and the information falls within my scope of practice in my state. However, unless I have directed you here as your homework I am probably not your acupuncturist. The information in this post is for general purposes only and does not constitute medical advice. As always, check with your own acupuncturist or primary care provider before making any lifestyle changes. This post does not create a patient-practitioner relationship and I am not liable for any losses or damages resulting or relating to the content in this post.
Resources and links
Don't forget your free checklist!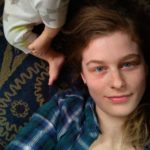 Jessica Gustafson is a licensed acupuncturist in St Paul, MN specializing in women's health and fertility. She loves working with patients through the Health Foundations Birth Center on Grand Avenue in St Paul as well as doing home visits in the Twin Cities area. Check out the services page for more information!
​
​Follow Reverie Acupuncture on Facebook, Pinterest and Instagram for updates!