Reverie hit a milestone moment a few weeks ago: I hit 100 posts.
I know that this seems like a small thing but in the middle of having to close my clinic due to the coronavirus crisis and the drastic shifts I am making in my life to accommodate for that, I'll take any glimmer of sunshine I can get.
I wanted to do this post for my 100th post but other things took precedence. After all, this blog is here for you: as a reference to my patients and as a resource to everyone else.
But whether you are a regular blog reader or not, 100 posts is a lot and it's quite possible that you may have missed some of the most popular posts I have to offer.
So that's what today's post is: a round up of the 10 most popular posts over the past two years. I hope that you can find something that serves you.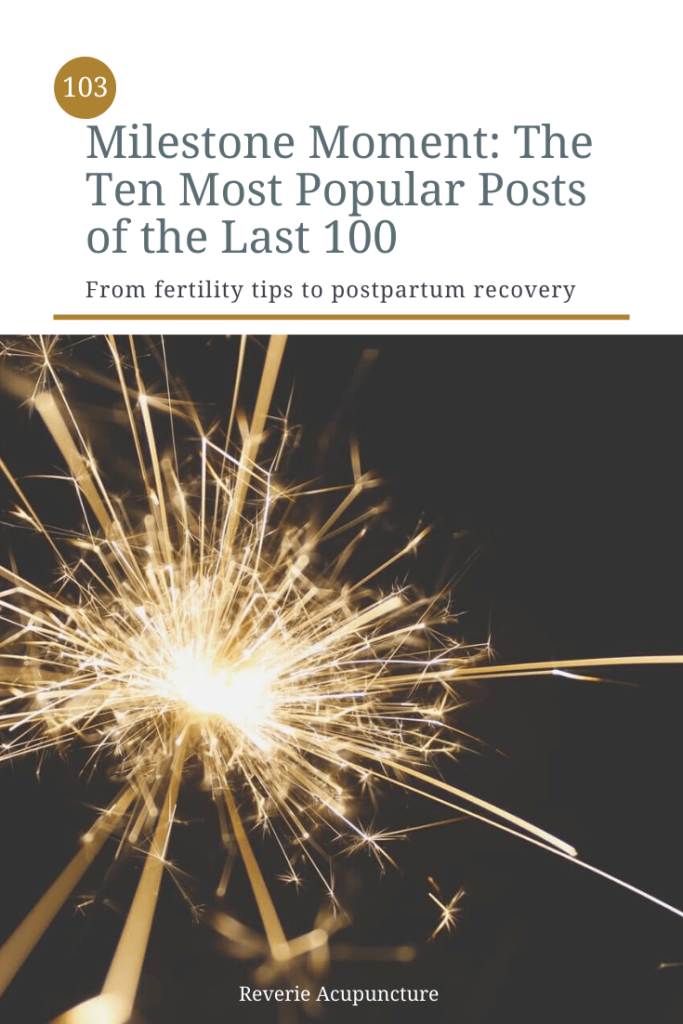 The information in this post is for general purposes only and does not constitute medical advice. This post may contain affiliate links, for which I will receive a small commission at no additional cost to you. For more information please see my privacy policy.
Three years ago I had a terrifying, wonderful, potentially unhinged idea:
I wasn't going to wait and find a clinic to work at anymore. I was going to start my own business. At 33 weeks pregnant, I said to myself, "New baby? New business? No problem!"
And Reverie was born.
I couldn't start the clinic right away because I didn't want to start seeing patients and then have them waiting 6 weeks until I came back from maternity leave. So, I started this blog. I figured it would be a good way to get my name out there.
But, can I tell you a secret?
I never thought I would get to 100 posts. I was confident the business would survive (even though the current shelter in place order has it living off virtual appointments) but the blog? I thought I would lose interest.
One hundred three posts, my friends. 103. Over 2000 visits per month. And a list of 20 post ideas just waiting to be written up. Definitely a milestone moment.
To me, this is something to celebrate, and what better way to celebrate than to share the top ten posts of all time?
10. Seed Cycling and Oil Cycling for hormonal balance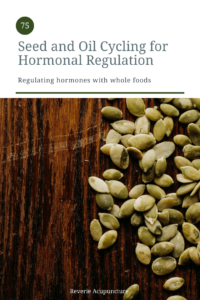 Working in the field I do, I've heard whispers of seed cycling and oil cycling for the past couple of years. But it wasn't until I consulted on a difficult fertility case last week that a colleague directly recommended it.
Seed cycling is kind of like vaginal steaming – it's on the fringe of accepted reproductive science with no peer-reviewed studies to support the process. But the people who love it love it for a reason. It worked for them.
So, what is seed cycling? How does it work? Can it really be the key to regulating your cycles?
Seed cycling is a whole foods approach to managing hormonal cycles. By choosing seeds with protein and fat profiles that support the hormones during specific parts of the menstrual cycle we can support our body's process as opposed to chemically forcing it into a rhythm with artificial hormones.
Seed cycling has a natural partner : oil cycling. Oil cycling is the use of either evening primrose oil or fish oil during specific parts of the cycle to support seed cycling, but depending on fertility goals, oil cycling regimens may need to be tweaked.
9. Acupuncture Safety: Knowing Your Practitioner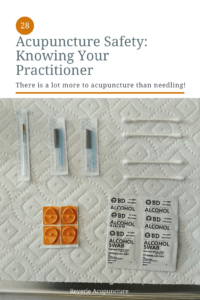 "I have a question for you. Do you sanitize your needles?"
I stopped what I was doing. Of the questions I get about acupuncture, this is not one of the most common. In fact, I've never been asked it because nobody sterilizes their needles in the US – it's dangerous.
"No, the process of repeatedly sterilizing* needles is really expensive and makes needles more prone to breaking. Reusing needles is dangerous anyway. I use single-use, disposable needles in sterile blister packs because I follow Clean Needle Technique."
*there is a huge difference between sanitizing and sterilizing. Sanitizing is washing. Sterilizing is removing microbes.
This continued into a lively discussion about CDC recommendations, licensing regulations and all sorts of other safety bits about acupuncture that made me think I should write up a blog post.
The fact is that his question was a very important question that triggers other questions:
What is Clean Needle Technique (CNT)?
What is the difference between dry needling and acupuncture?
Who is allowed to do acupuncture?
What kind of training do people get before they are allowed to needle?
What are some signs that your practitioner may be unsafe?
These are all very important questions that should be answered for every patient who wants to be in the know.
8. The Outer Shu: A Natural Approach to Mental Health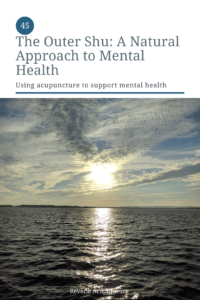 Emotions are complicated. Psychology is complicated. Humans, well, we're complicated.
This season we've been diving deeply into emotional and psychological disorders on the blog. We started on Halloween with Sun Si Miao's ghost points, the ancient treatment for conditions like addiction, bipolar, depression and anxiety.
Last week we talked about the shen, or how we understand spirit and consciousness in Chinese medicine.
But this week I thought we would get back to acupuncture and discuss an interesting group of points – the outer shu points – and tie them back to their impact on the shen.
The outer shu points are a set of points a hands' breadth on either side of the spine. Most correlate directly with a category of function in Chinese medicine, which means they correlate with that category's mental health function.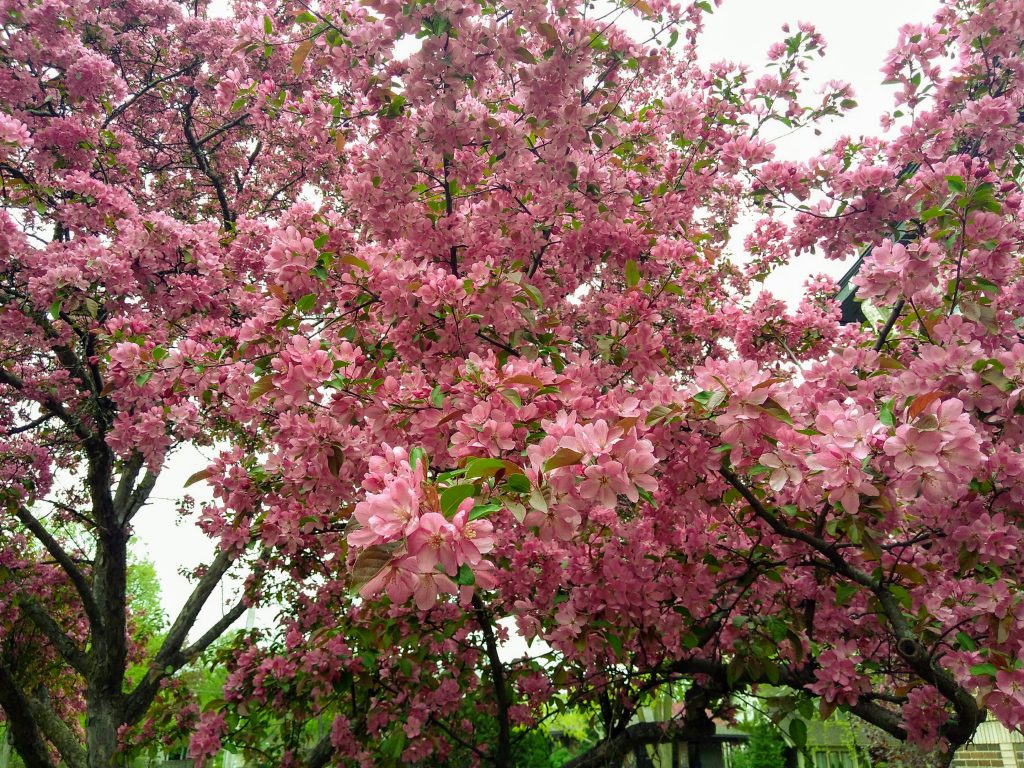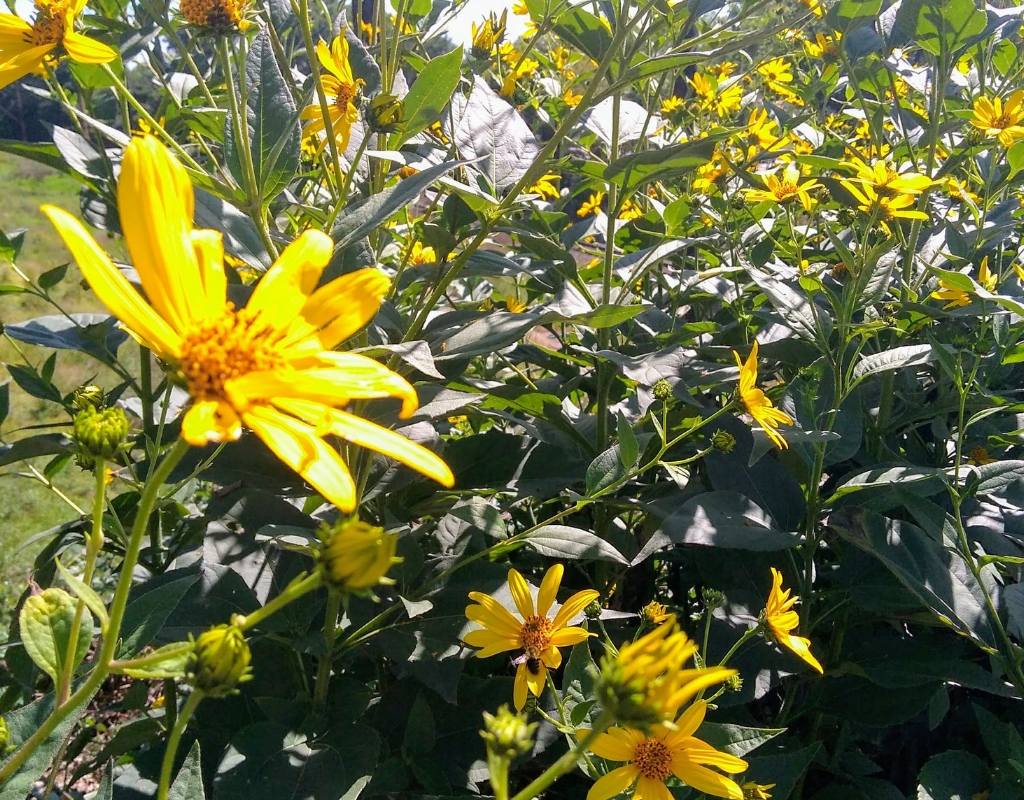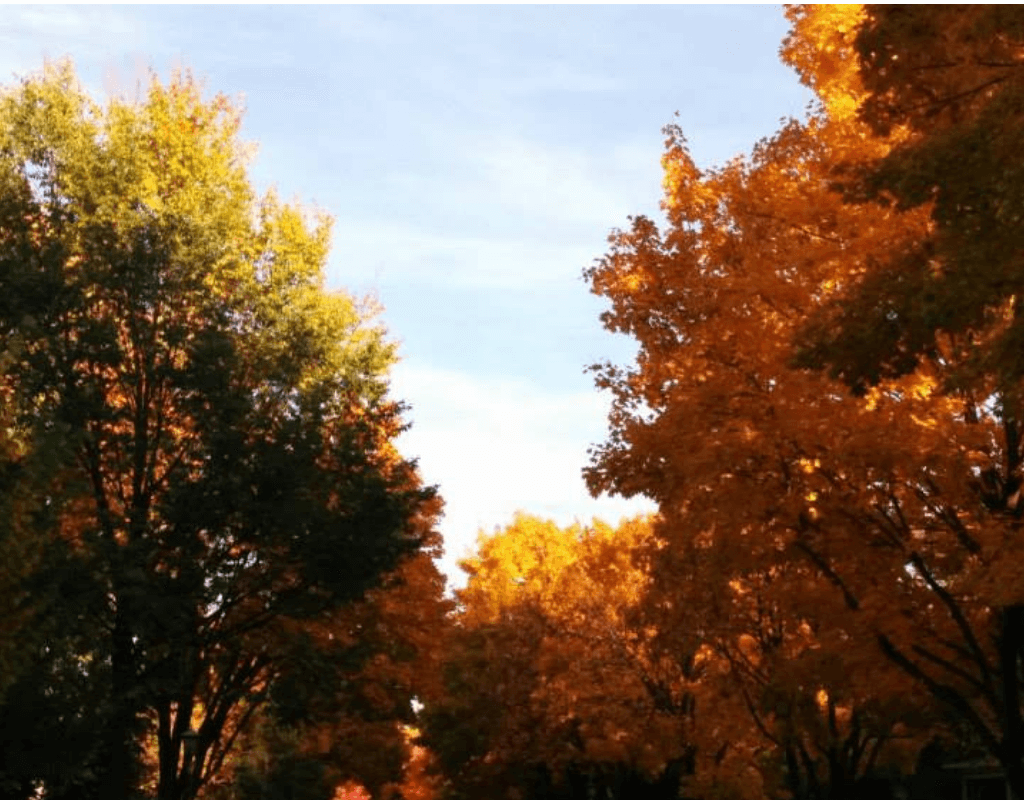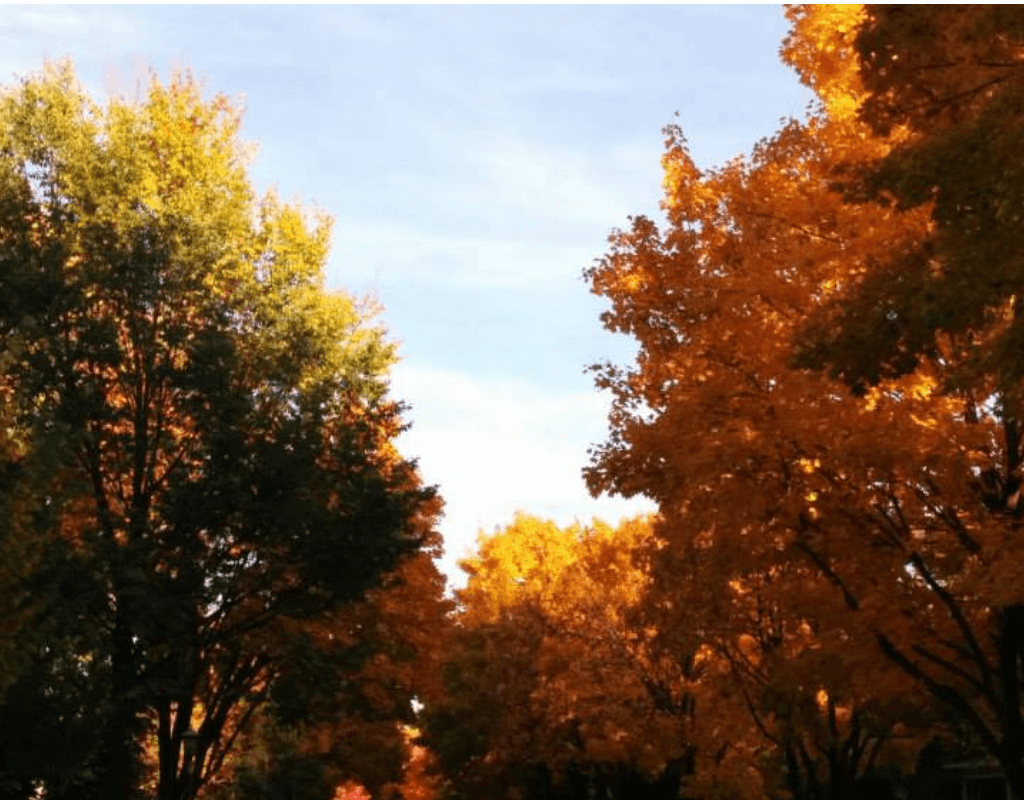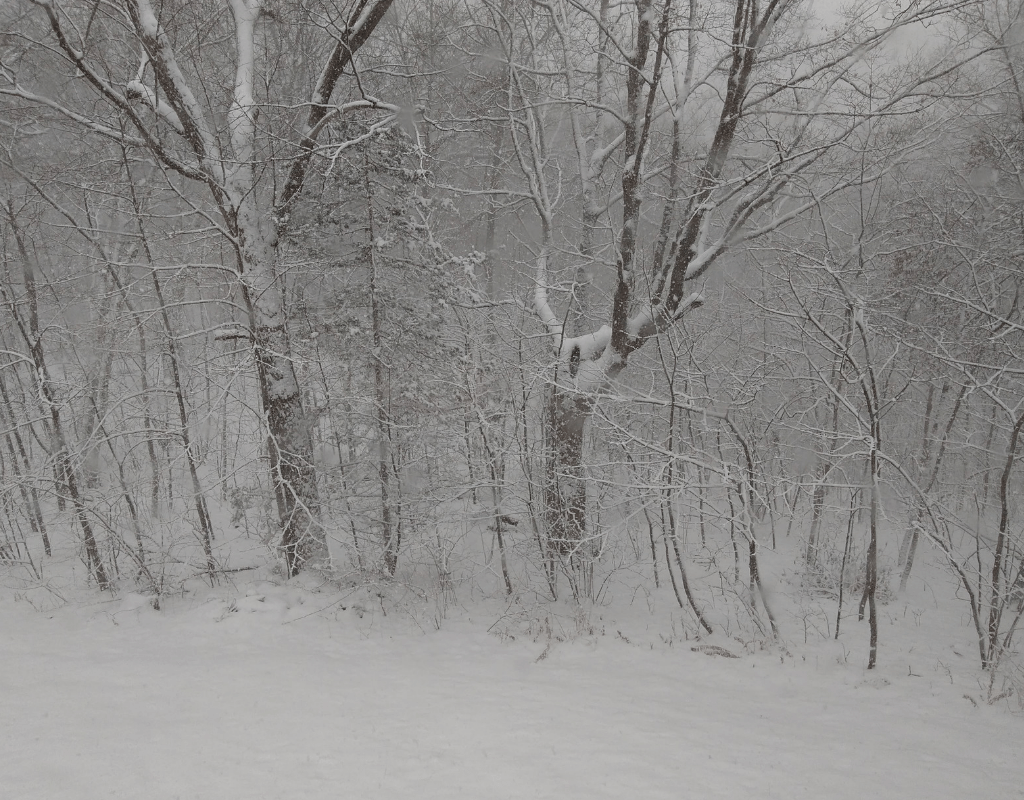 7. Five Ways to Increase Fertility by Decreasing Stress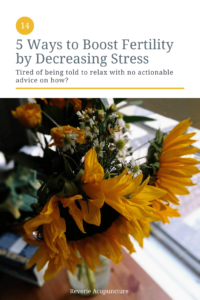 I don't think stress ever came up more than when my husband and I were trying to conceive.
"Relax, it will happen!"
For a great many of you reading this on the TTC or "trying to conceive" journey, your eyes just twitched. I have to be honest, it hurt a little to type. Out of all the phrases I hated hearing while TTC, that was at the top of the list.
The problem is that as much as we hate it, conventional wisdom has it right:​
Stress impacts fertility.
It's not something we can argue. We have thousands of years of doctors and sages corroborating all of the studies we've done on the subject in the past century. The difference is now we know why – hormones.
6. Taming the Red Dragon: Menstruation in Chinese Medicine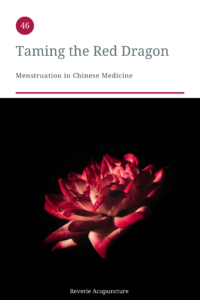 In a nutshell, a life cycle is a cycle an organism follows from birth to the point they reproduce and their offspring begin their own life cycle. A death cycle follows an organism through all the processes of birth, life, death and potential rebirth.
The handy thing about death cycles is that since the year is its own death cycle we can use it as a guide. Spring is birth, summer is growth, fall is decline and winter is death. The unique thing about winter is that it's the season that contains all the things we, as a society, fear, are ashamed of, or hate.
Cold, darkness, old age, labor, and menstruation.
When you work with the seasons and death cycles, you learn that decline is a part of life and it's usually a healthy part of the process. Trees wouldn't flourish in the summer if they didn't rest in the winter, the day doesn't happen without the night and we wouldn't continue our reproductive cycle without healthy menstruation.
Have you been told your entire life that your period is gross, something you shouldn't talk about, something shameful or even, sinful?
What would happen if you saw it has a healthy sign of ovulation and embraced it as a time of rest? My bet is that it would be life changing and if you're interested you should definitely read on.
5. The Fundamentals of Acupuncture for Fertility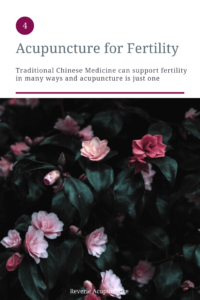 Acupuncture for fertility is a huge topic. It's actually much bigger than just acupuncture. The fact is acupuncture is an important cornerstone of Traditional Chinese Medicine (TCM) but it's still a smaller part of a much bigger picture. I thought it was time we started to scratch the surface of TCM approaches to fertility and how acupuncture and other lifestyle changes can help bolster your fertility success.
This blog was originally written to introduce readers to the basics of fertility. While I've gone into detail on various aspects of fertility from stress (as seen above) to seed cycling when trying to conceive this is the fertility post that remains the most popular.
4. Three herb broth: A Traditional Cold Fighting Remedy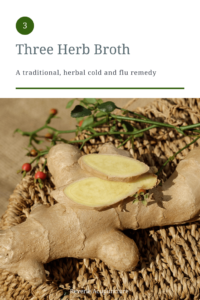 Any pregnant woman can attest: having a cold while pregnant is awful. You already can't breathe normally, but yeah sure, let's add a stuffy nose and a cough to the mix!
Of course you don't have to be pregnant to be miserable with a cold and you certainly don't have to be pregnant to be familiar with them. According to the CDC an adult will average 2-3 colds per year, each lasting an average of 7-10 days. Since the cold is caused by a virus you can't take anything for it either – it's just a matter of rest, fluids and waiting.
What if I told you that you could cut that in half? And that if you acted quickly enough you could even nip the disease in the bud before it even got annoying. And that all it would take is a trip to the grocery store?
3. Acupuncture for birth preparation and labor induction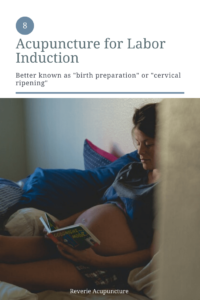 The last few weeks of pregnancy are unique. You're excited because you're going to meet your new baby so soon! There's anxiety because oh wow, there is so much still left to do. Maybe you're a little scared. And you might be frustrated because you're big enough now that if you drop something on the floor that it lives there now.
You could be any of this and more. Every pregnancy is different, every woman is different but there is one thing that is pretty much constant across pregnancies:
You want it to be over and that 40 week mark is juuuuuuuust within your reach.
2. Fresh red raspberry leaf tea recipe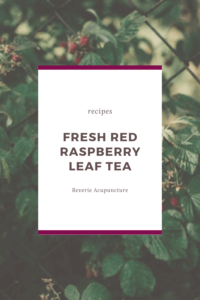 Last summer I was sitting in my mother in law's house and I found myself craving a cup of red raspberry leaf tea. Sometimes your body just tells you that you need something. One problem: I was in the middle of the woods, half an hour away from a store that might have red raspberry leaf tea.
But I was a five minute walk from a raspberry patch.
I love red raspberry leaf tea in general, but there is something about a fresh tea that is so much more bright and whole. So for today's blog post I wanted to show you how I made my North Woods fresh Red Raspberry Leaf tea and how you can make some of your own.
1. How to pack the ultimate birth center go bag
My husband and I had to pack a birth center bag. Fortunately, we are list makers and preppers. Literally at this moment my husband is telling me how he's going to consolidate all of our travelling gear while I'm gone so that we just need to go through it tomorrow morning. Hooray organization!
We were like this for the birth too, but almost everything we found for prepping for a birth was geared to a hospital birth. In hospital births, you need to plan to be there for a couple days. This means packing entertainment things, extra changes of clothes – so much stuff.
Birth centers are much more simple. I went into active labor at 5, my daughter was born at 9:30 and we were home by 2. So much less time away from home. As you can imagine, a birth center bag will look much different than a hospital bag – you just don't need as much. Depending on the birth center, there may be additional things you're allowed to bring that a hospital would not allow.
I wanted to share with you what we couldn't find – a list of what to pack for the short trip. Feel free to download your copy of the checklist here.
Looking forward to more?
If these articles are up your alley I have a secret for you: every single one of these cycles from the menstrual cycle to the postpartum recovery process reflect what's going on in the world around us.
This could be reactive like a stress reaction to the current coronavirus crisis. Or it could be passive like the shifts our body makes in response to the movements of the sun and moon.
If you want to learn more about how the cycles of the months and seasons impact your health from fertility to productivity, join the Resonance Facebook group. For the time being I am doing daily self care check ins in addition to all the seasonal living information I share.
Check it out by clicking below!
Resources and Links
Featured image and cover photo by Malte luk from Pexels
Disclaimer: I am an acupuncturist in the state of Minnesota, and the information falls within my scope of practice in my state. However, unless I have directed you here as your homework I am probably not your acupuncturist. The information in this post is for general purposes only and does not constitute medical advice. As always, check with your own acupuncturist or primary care provider before making any lifestyle changes. This post does not create a patient-practitioner relationship and I am not liable for any losses or damages resulting or relating to the content in this post.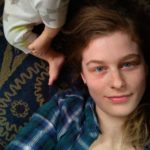 Jessica Gustafson is a licensed acupuncturist in St Paul and White Bear Lake, MN specializing in women's health and fertility. She loves working with patients through the Health Foundations Birth Center on Grand Avenue in St Paul and doing home visits in the Twin Cities area. Check out the services page for more information!
​
​Follow Reverie Acupuncture on Facebook, Pinterest and Instagram for updates! Please follow and like Reverie Acupuncture!