This page will contain all of my policies for my COVID-19 response and will be updated regularly so please make sure to check back. If you want to jump to a particular section, click the link below:
I love you folks and I want to take care of you
It has been so hard not seeing you all in clinic and I'm relieve that were coming up on the other side of all of this. And while I really want to see you all ASAP there are some steps that we need to take to make sure that everyone is as safe as possible.
Some things are changing in the clinic. Some of these things may be permanent, some may be sticking around for only a few months.
What I'm doing
I am changing some policies temporarily going forward. I am also adding services to increase accessibility to appointments which I hope will not be temporary.
Changing policies
Many of these policies were agreed upon to protect the health and safety of Health Foundations patients. Pregnant people and their babies, unborn and recently born, are extremely vulnerable. If these policies are too strict, please consider a home visit or a virtual visit instead of a community acupuncture visit.
You will need to agree to these policies as well as my other policies upon booking your appointment, so please read them carefully.
Refusal to follow them at the time of your appointment will result in me asking you to leave and treating your appointment as a short notice cancellation, which means you forfeit the cost of your appointment.
Do not enter Health Foundations Birth Center if you are experiencing a fever, shortness of breath, loss of smell or taste, have a new cough or sore throat, chills or muscle aches.

If you have had recent exposure to someone who has tested positive or are awaiting test results yourself, please reschedule your appointment until after you have relieved a negative COVID-19 test and/or 10 days has past since exposure.

If you have had a fever but have tested negative for COVID-19, please wait 48 hours before coming to clinic.

If you have tested positive for COVID-19 in the past, please wait one month (30 days) since your last negative test before coming to clinic.
If you suspect you have Covid-19 and wish to cancel same day, I can accommodate you. Email me at jess@reverieacupuncture.com, as Acuity will not allow you to cancel your appointment same day.
Please arrive at your appointed time No patients are allowed in the waiting room. If you arrive early, you may wait outside or in your car. If you arrive late, your appointment may be shortened in order to adhere to patient limits within the treatment room.
No visitors, friends, family members or other persons may attend your appointment with you If you are driven to your appointment, please make sure your driver knows that they may not enter the Birth Center with you
Please leave all unnecessary items in your car or at home
Place necessary items in the disinfected plastic container provided at the entry way to the clinic space This will allow you to keep track of your personal belongings without having to keep them in your lap or worry about them on the floor
Sanitize your hands upon entry The CDC has amended its judgement about hand washing being superior to hand sanitizing. Bonus points if you do both, though. See the "Hand Hygiene" section below for more information.
All payments for in clinic appointments must be made online, prior to appointment. This is to reduce the amount of time you are spending in the clinic space and can be done when scheduling the appointment. I cannot accept cash or checks at this point.
Appointments must be made through Acuity This includes rescheduling. No appointments are to be scheduled in the clinic space
Please keep six feet from other patients In theory, this should be simple due to the staggering of appointments and limit of patients within the clinic space
Currently, community acupuncture appointments are suspended to reduce the amount of people in the clinic space. (Re-opening August 2020, provided lockdown is not reimplemented)
New patients must do their intakes via phone or Google Meet chat to reduce the amount of contact time in clinic or in their own home.
All patients will be required to answer screening questions upon booking their appointment If more than 24 hours have passed since booking the appointment, these questions will be repeated before your appointment.
In-person visits must be screened for Covid-19 and I will be taking temperatures with a no touch infrared thermometer. If you are uncomfortable with this style of thermometer, please feel free to use your home thermometer. However, your temperature must be taken while I am present so that it can be properly logged in your chart.
Blankets are temporarily not available. If you get cold during your appointments, please consider bringing your own blanket.
Clinic clothes are also temporarily unavailable. Please wear clothes that can be rolled up to the knee or ankle, or if doing a birth prep appointment past 40 weeks, can be rolled down to expose your sacrum/low back.
If you find out after your appointment that you are positive for Covid-19 and were positive at your appointment, please contact me immediately at jess@reverieacupuncture.com.
Your privacy will be protected, but I will need to contact all other patients regarding possible exposure.
If you would like to view the waiver in full, it can be located here:
Waiver
The COVID-19 Waiver can be viewed here. Since paperwork has moved online, the form will be in your Acuity intake questionnaire.
Changing services
Virtual appointments are available for those who cannot access in-person clinical services for whatever reason
Home visits are also available for those who cannot access in-person clinical services but need more hands on technique than virtual appointments can provide
Appointment conversion policy
For patients who have their appointment cancelled at the last minute due to possible illness on their end or on my end (which would only happen out of an abundance of caution), I will be in contact with you immediately to convert your cancelled appointment to a virtual appointment for a discount.
As for rescheduling, if appointments are cancelled due to suspected COVID-19 symptoms I will delay rescheduling until everybody is in the clear.
Drop off, delivery, and pick up policies
Patient drop off Most items shared with me are files or notes. Please upload them as a PDF to the Acusimple patient portal. Acusimple is my old system and many of the older patients have access to it. However, if you are a new patient and do not have access to the Acusimple patient portal email me at jess@reverieacupuncture.com and I will trigger the system to send you an invitation. Your information is already in the system, as I use it to manage your health record
Herbal drop off/delivery For herbs that are not available on Amazon or through your local natural pharmacy or co-op, I can order them through Lhasa. If you are a local patient I can drop them off for you, no contact. This reduces visits to the Birth Center. I can also mail them to you or have them drop-shipped to you for an additional fee.
Pick ups If you have an appointment on the schedule and would prefer to pick up your herbs at your next appointment, I can have them available to you but you must pay for them through a square invoice prior to your appointment. I cannot take payment in the clinic space.
If you do not have an appointment on the schedule, you must arrange for a drop off/delivery to reduce traffic in the Health Foundations space.
Mask policy
Masks are required for all clinical appointments. This is based on the requirements of the City of St Paul for indoor public spaces, the needs of Health Foundations Birth Center, and the recommendations of the CDC, WHO, and the NCCAOM.
Homemade cloth masks are fine. One time use disposable masks can be provided if you do not have a mask.
I have the right to refuse services to those who refuse to wear a mask as not wearing a mask causes undue burden on the health and safety of other Reverie Acupuncture patients and the patients and staff of Health Foundations Birth Center.
Reasonable accommodations for those who cannot wear masks are 1) home visits or 2) virtual appointments.
Home visits
Masks are not required in your own home thought it is preferable if you wear one. Out of respect for your family I will be wearing one.
What I'm doing, personally
I will not attend parties or gatherings and my partner does 90% of the shopping. We take social distancing very seriously in the Gustafson household
I wear a mask when I go to public spaces and I sanitize my hands before going in and out
I monitor my temperature every morning (for unrelated reasons) as well as my resting heart rate and my oxygen saturation. I will cancel appointments for the day at no cost to you if I show any symptoms of COVID-19, including cough, fever, and shortness of breath, or if I have been exposed to someone who has tested positive for COVID-19. Cancelled appointments can be converted to virtual appointments instead.
Disinfectants
I have chosen a disinfectant from the EPAs approved list for SARS-CoV-2. However, I have chosen one with an active ingredient of hypoclorous acid which, while requiring a longer wet contact time is safer for pregnant, breastfeeding, and chestfeeding people than many of the commercial disinfectants on the market. It is eco-friendly and apparently odorless.
Hand Hygiene
The CDC has amended its recommendation regarding hand washing, prioritizing hand sanitizer over hand washing. Hand sanitizer is available for your use upon entry to the Health Foundations Birth Center and to the community acupuncture space.
Please clean your hands upon entry.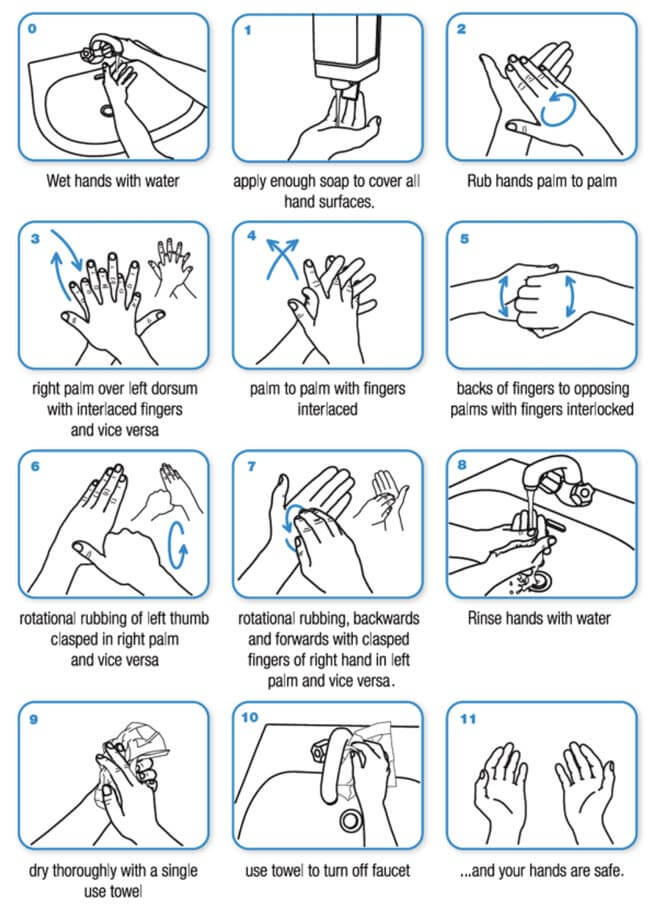 If you are the type to prefer a video, please reference the video below:
Respiratory hygiene
Please cover your coughs and sneeze with your arm or a tissue. Dispose of any tissues immediately and then wash or sanitize your hands.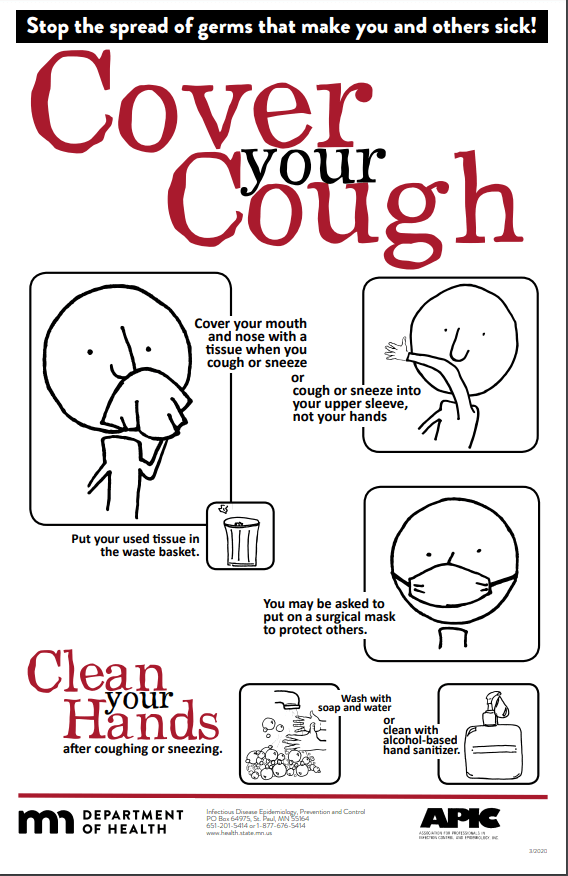 Additional Information
Centers for Disease Control & Prevention COVID-19 information page
Minnesota Department of Health COVID-19 information page
Updated 7/15/2020