When you hear the phrase "seasonal living" what do you think of?
If you're like most people, you think: "Eating locally and buying from farmer's markets."
That is a part of it! But it's actually a really small part. And for people who want to live seasonally, limiting their lifestyle changes to their diet keeps them from experiencing the full benefit of seasonal living.
There are a couple of other things that keep people from the magical preventative medicine and wellness support that seasonally living provides.
The information in this post is for general purposes only and does not constitute medical advice. This post does contain affiliate links, for which I will receive a small commission at no additional cost to you. For more information please see my privacy policy.
But, first things first:
What is seasonal living?
Seasonal living is using the changing of the seasons as inspiration in how we live our lives.
The seasons do impact our food, but they also impact our mood and our energy.
2000 years ago Chinese philosophers compiled a book called the Huang Di Nei Jing or the "Yellow Emperor's Classic." I often refer to this as the Merck Manual of Chinese Medicine because all theory can be tied to this book.
Like with moxibustion, acupuncture, and herbalism the foundations of seasonal living are in its pages. The Nei Jing not only tells us that hibernating in winter is good for our health, but that if we do so it can prevent muscle weakness and coldness in the spring.
It tells us that we should stay in warm rooms, dress for cold weather, go to bed early, sleep in, and meditate. Food isn't even mentioned in this chapter.
Seasonal living is a lifestyle shift and more and more people are catching on. There is just one issue…
Rethinking the seasons
The biggest issue most Westerners run into is starting the season on the wrong day.
There are four pivot points in the year: the two equinoxes and the two solstices. These pivot points are actually the middle of the season and not the beginning.
I know that's a bold statement, but hear me out.
According to the Huang Di Nei Jing:
The heaven has eight weather terms (i.e. the Beginning of Spring, the Spring Equinox, the Beginning of Summer, the Summer Solstice, the Beginning of Autumn, the Autumnal Equinox, the Beginning of Winter and the Winter Solstice), and the earth has the distribution of the five elements to be the guiding principle to breed all things.

Huang Di Nei Jing, Su Wen, Chapter 2
Logically speaking, if we have eight possible categories and eight seasonal definitions, half of them cannot be the same as the other half. That's not how math works.
If we take these eight weather terms and diagram them out, it looks a little like this: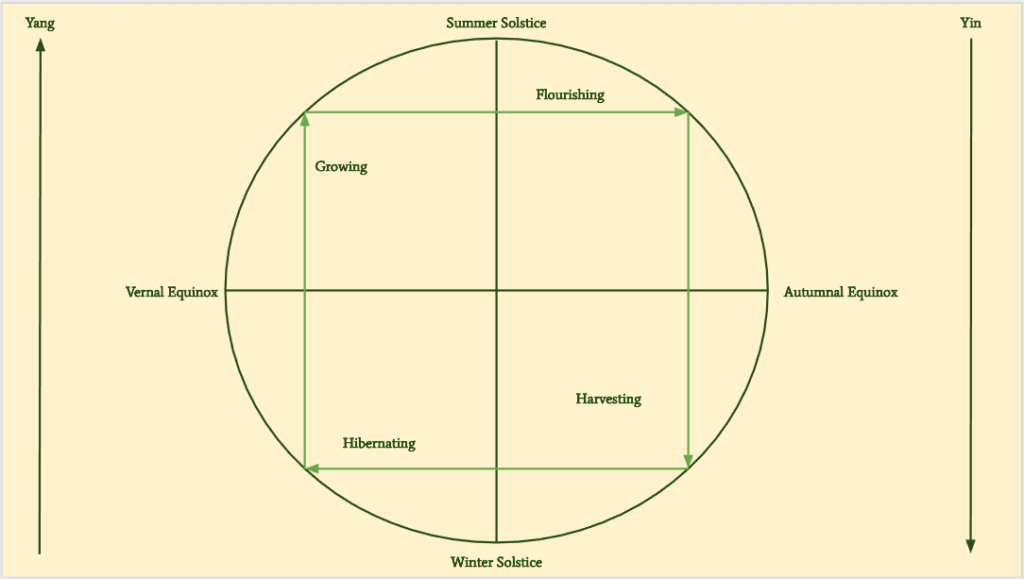 This puts the Beginning of Winter right around Halloween, the Beginning of Spring right around the Chinese New Year, the Beginning of Summer right around the first of May, and the Beginning of Fall right around the beginning of Autumn.
Great, so that's the Chinese calendar. So, why am I so adamant that this is the right understanding? Because this understanding of the seasons is cross-cultural.
The other solar calendar
Ancient European calendars are also based off the movement of the sun, which we can see in the Wheel of the Year.
The Wheel of the Year also has eight "weather terms" which fall at roughly the same times: Beltane, Lammas, Samhain, and Imbolc fall at the halfway points between the pivot points and mark the beginnings of seasons where Midsummer, Mabon, Yule, and Ostara fall on the pivot points themselves.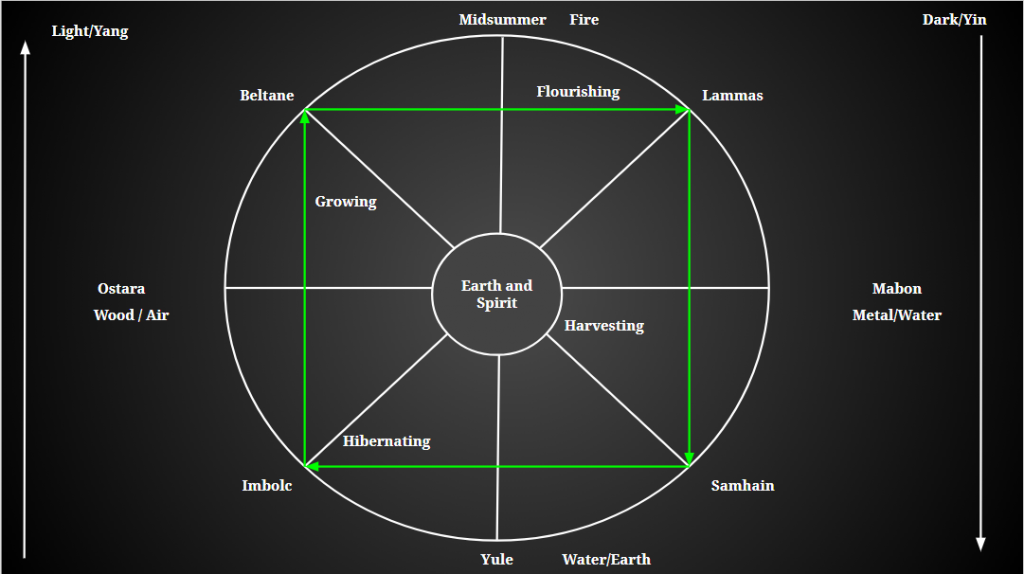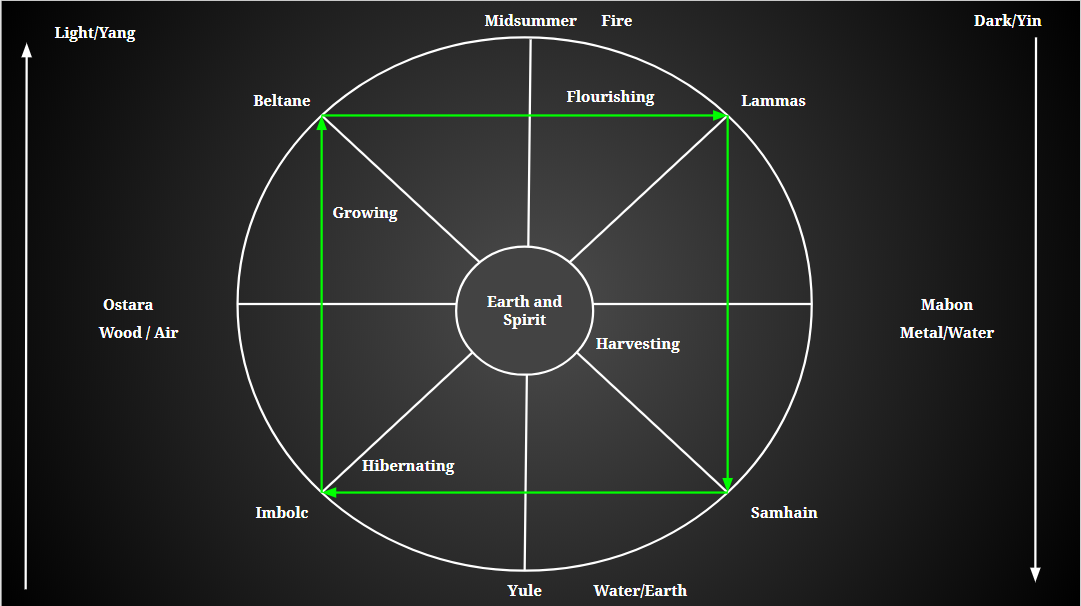 We already have a cultural context for this shift in thinking, we just need to remember it as a collective.
Why does it matter?
So, why does it even matter that there's a different interpretation of the seasons?
Because seasonal living is getting more popular and people who are starting their practices on the pivot points are missing out on six weeks of support for each season.
Throughout the year, that's six months.
That's massive. And I think it's a shame because seasonal living is one of the most affordable and accessible self-care methods available to us. We're getting cut off at the knees because we're thinking of the seasons wrong.
Once you shift your thinking around the seasonal start, things start to flow much more easily which is amazing because…
It's so much bigger than the seasons
Seasonal living, like so much in Chinese Medicine, is a metaphor.
I'm sure you've heard people refer to "seasons of life."
Seasonal living can be applied to those seasons, but it's really only effective once you have a feel for the practice.
You can read up on all the correspondences you want but until you know what winter feels like in your body you won't know if winter living will be effective for you while you're menstruating, in menopause, or in your postpartum period.
You'll also gain valuable insight into what practices make you feel better when. Maybe it's the middle of summer but you're feeling wintery because you're in air conditioning all the time. Knowing what foods or drinks can help rectify that will keep you balanced.
Seeds of Yang
Winter Solstice 2020 is next Monday, December 21st. On that day, after the darkest seasonal node of the year a seed of yang will be born from the darkness.
Days will get longer and eventually warmer.
To celebrate, I've put together a webinar that will cover seasonal living for winter in general, but also for living by seasonal node from the Winter Solstice to the Beginning of Spring.
The webinar is this Saturday, December 19th at 11 AM CST and it is the only chance to access this information by video for free. After Saturday, the webinar recording will be available for purchase in my store.⁠
⁠
So, if you're:⁠
⁠
👉 looking for a practical way to apply seasonal living to your life⁠
👉 looking for a simple, affordable, and accessible self-care routine⁠
👉 looking for changes that you can apply THE DAY OF THE WEBINAR to support your overall wellness⁠
⁠
…the click the button below to save your spot in the webinar.
Resources and Links
Previous winter posts and other related posts
Season of Stillness
Beginning of Winter
Lesser Snow
Greater Snow
Winter Solstice
Small Cold
Great Cold
Water Element: Foundations in the Depths
Kidney Yang Disharmonies
Kidney Yin Disharmonies
Featured image and cover photo by Curioso Photography via Pexels
Disclaimer: I am an acupuncturist in the state of Minnesota, and the information falls within my scope of practice in my state. However, unless I have directed you here as your homework I am probably not your acupuncturist. The information in this post is for general purposes only and does not constitute medical advice. As always, check with your own acupuncturist or primary care provider before making any lifestyle changes. This post does not create a patient-practitioner relationship and I am not liable for any losses or damages resulting or relating to the content in this post.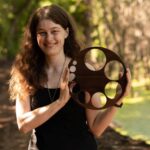 Jessica Gustafson is a licensed acupuncturist in St Paul, MN specializing in women's health and fertility. She loves working with patients through the Health Foundations Birth Center on Grand Avenue in St Paul and doing home visits in the Twin Cities area. Check out the services page for more information!
​
​Follow Reverie Acupuncture on Facebook, Pinterest and Instagram for updates! Please follow and like Reverie Acupuncture!