Just need a quick link to book online? Click below!
At Reverie Acupuncture, I offer the following services:
Community acupuncture
Private acupuncture clinic and home visits
Cupping
Reiki
Dietary counseling
Herbal counseling
In-clinic intrapartum and postpartum visits
Mother warming postpartum visits
Doula services (coming Fall 2019!)
Massage (coming Winter of 2019/2020)
$35
Community acupuncture is in the upstairs yoga studio of the St Paul Health Foundations Birth Center from 5 PM to 8 PM, Wednesday and Friday evenings.
Appointments can be scheduled through Acusimple. Walk-in appointments can be taken on a first-come, first-serve basis with priority given to scheduled patients. To ensure treatment, please schedule online by clicking the button below:
If you want to know the differences between private acupuncture appointments and community-style treatments, check out this blog post.
Private Intake Appointment – $110
Have you never had acupuncture at Reverie Acupuncture? This one is for you! This is a private acupuncture treatment in the Naturally Well White Bear Lake space. This appointment includes a detailed history as well as an acupuncture treatment. (90 minutes)
Private Follow-Up Appointment – $75
Have you already had a private acupuncture appointment in the Naturally Well space? Want another? This is the appointment for you! This service is only offered at the Naturally Well space in White Bear Lake. For established patients only. (60 minutes)
Private Acupuncture Follow-Up with Extra Time – $110
Are you an established patient but you want some extra time for cupping, discussing herbs, dietary changes or more? This is the appointment for you! Naturally Well Space only. (90 minutes)
Cupping appointment – $75
Cupping is a method of applying suction to tissues to loosen muscles and move lymph. This appointment has no acupuncture, involves an interview and 30-40 minutes of cupping and bodywork (60 minutes)
Dietary or Herbal Consult – $75
Not into needles? Let's chat about diet, herbal, and lifestyle changes. This appointment does not have any hands on modalities. Naturally Well space only. (60 minutes)
Reiki $75-110
Reiki is an energy healing modalities that activates your own natural healing capabilities and helps to restore physical and mental well-being. Naturally Well space only. (60-90 minutes)
Massage and bodywork
Coming Winter 2020! Massage and bodywork will be offered to existing patients and on a referral basis only. Thank you for understanding. Please sign up for the newsletter for updates.
Outcall acupuncture services – $75-110 + travel fee
Private outcall acupuncture is done in your own home and is great for birthing people on bed rest or for those who cannot make it to community acupuncture.
Intake appointments are $110 + travel fee for a 90-minute session.
This appointment is required for all patients who are not already established with Reverie Acupuncture. If you have already had an intake appointment or have attended at least three community acupuncture appointments, feel free to schedule a follow-up appointment unless you would like the additional time.
Follow up appointments are $75 + travel fee for a 45- to 60-minute session. These appointments are for patients who are established with Reverie Acupuncture.
Please note that due to space limitations, private acupuncture is available only during home visits or postpartum and intrapartum visits to the birth center. There is a $1.10/mile fee for traveling. Please contact me for estimates.
In-clinic intrapartum services – $75 (and up)
Intrapartum, or "during birth" acupuncture is a specialized service for a birthing person and is meant to support them through labor. It is most helpful in latent phase or early active phase and consists of bodywork, positioning and gentle needling (if needed.) This appointment is best for established patients and has a recommended maximum of 2 hours. Every additional 15 minute block after one hour is $19.
If requested during community acupuncture hours at Health Foundations Birth Center, this service is available for $35.
In-clinic postpartum treatment $75
This is a private visit at Health Foundations Birth Center in the hours immediately after birth. Acupuncture at this time can help with energy and give you a head start on recovery.

The appointment is 60 minutes.
Outcall postpartum visit with motherwarming – $75 + travel fee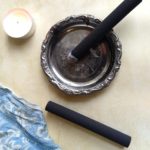 This visit, best done 4 to 5 days postpartum, can help with recovery, milk production, and energy. Mother warming is a moxibustion technique, meaning it involves the burning of moxa sticks. Moxa sticks are compressed sticks of mugwort which burns at a temperature helpful in stimulating the nervous, circulatory and endocrine systems.
The appointment is 60 minutes. There is a $1.10/mile fee for traveling. Please contact me for estimates. For established patients only.
Doula Services
I am pleased to announce that I will be offering doula services in the Fall of 2019! If you are interested and would like to keep up to date, sign up for my newsletter by clicking the button below.
Financial Policies
Insurance
Jessica Gustafson and Reverie Acupuncture, LLC are not in-network for any health insurance company.
I do not take health insurance, but invoices are billed within 24 hours. I am more than happy to email you the invoice for you to submit to your insurance.
I accept cash, checks, and credit cards. Returned checks are subject to an additional $30 fee. Payment is due at the time of service.
Cancellation and Rescheduling Policy
Scheduled appointments are reserved specifically for you. If you need to cancel or reschedule your appointment, please do so at least 24 hours before your scheduled appointment time. Changes can be made 24 hours a day online in the patient portal, by calling me at 612-584-9286 or emailing me at jess@reverieacupuncture.com.
All community acupuncture and private appointments (including new patient appointments) needing to be cancelled or rescheduled with less than 24 hours advance notice will be charged the full cost of the appointment to the card on file. If there is no card on file, an invoice will be sent to the email listed in your contact info.
Exceptions will be made for late cancellation or requests to reschedule for the following reasons:
Rescheduling an appointment within the same week: no charge
Medical or family emergencies: no charge
Going into labor: no charge
Bad weather: $10 fee for community acupuncture, $30 fee for private appointments (unless schools are closed, then you won't be charged)
A no show is an appointment for which you are 15 minutes late or do not attend with no advance notice. No shows for appointments will result in a charge to the card on file for the cost of the appointment missed. Please contact me at jess@reverieacupuncture.com or 612-584-9286 if you are running late.
Walk-ins are not subject to any cancellation fees but no walk-ins are taken after 7:00 and priority is always given to scheduled appointments.

Definition of Established Patient
If you are a community acupuncture patient from the Health Foundations space with fewer than three (3) community acupuncture appointments and you are wanting a private treatment, we will need to do an initial intake in order to appropriately discuss your history.