"The fifth season?"
Yes, there's a fifth season. In Chinese Medicine there are 5 "phases" or elements and each element creates a category of things that correlate with it – tastes, diseases, smells, emotions and seasons.
But there is some misunderstanding about what the fifth season actually is and to clear up that understanding we have to look back to the classics.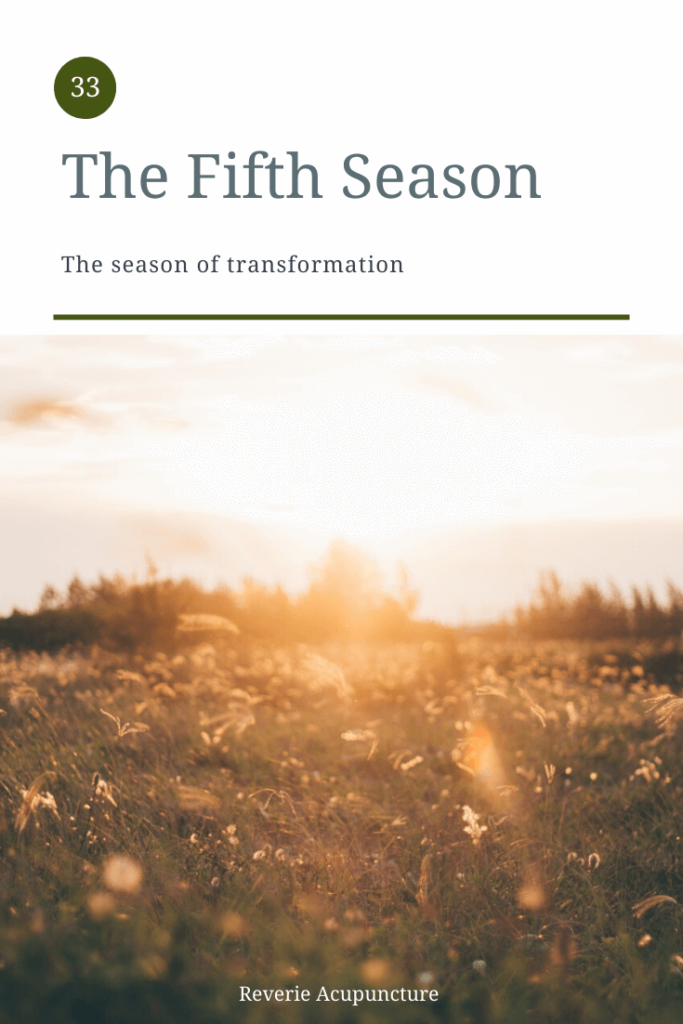 The information in this post is for general purposes only and does not constitute medical advice. This post does contain affiliate links, for which I will receive a small commission at no additional cost to you. For more information please see my privacy policy.
For every element, there is a season
Part of the elegance of Chinese Medicine is that everything falls into a category: yin versus yang, interior versus exterior, heat versus cold, etc.
In the case of the seasons, each season correlates with an element:
Spring is the season of wood
Summer is the season of fire
Autumn is the season of metal
Winter is the season of water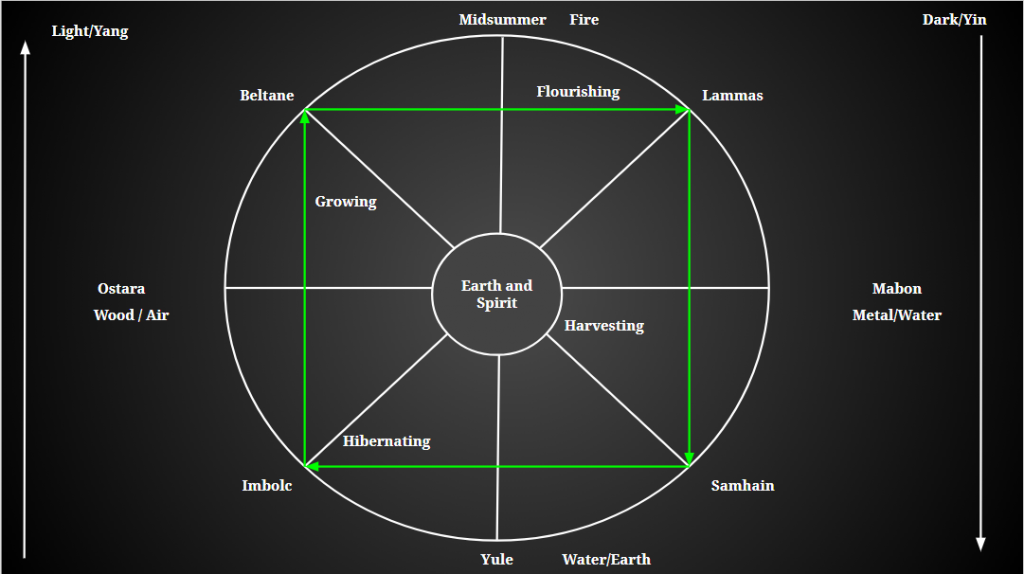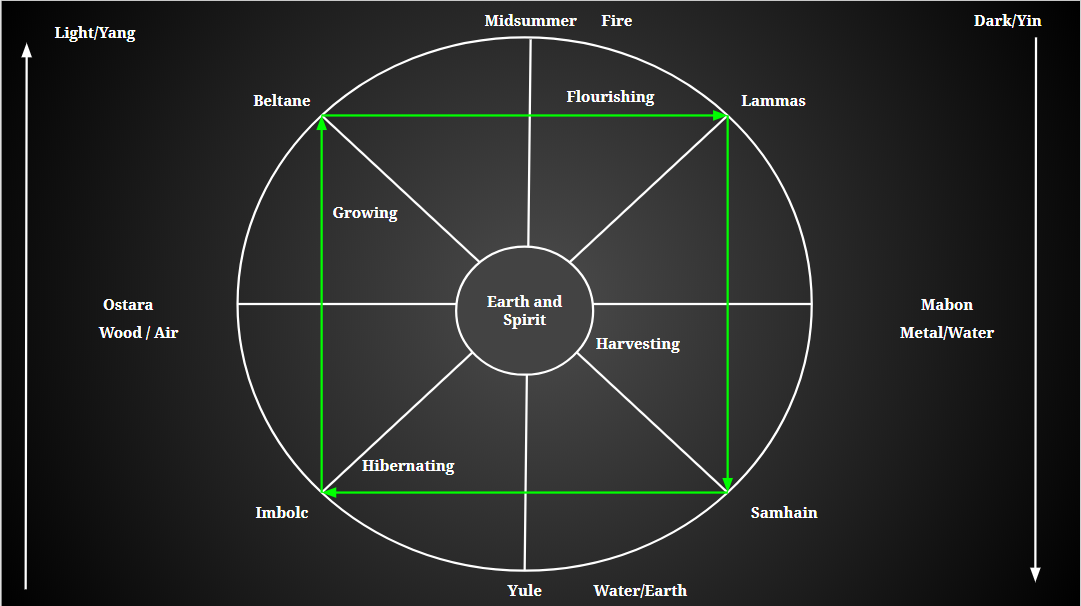 In Chapter 2 of the Nei Jing Su Wen, Qi Bo – the Taoist Master advising the Yellow Emperor – explains the basics of each of the seasons. That summer is the "season of flourishing" and winter is the "season of hibernating". He explains that each of these seasons is about three months and in no place does he mention "a fifth season."
In fact, he explicitly states:
The energies of all things on earth are born in spring, grow in summer, yield in autumn and hide in winter, they are all promoted by the law of variation of Yin and Yang energies of the four seasons.
But you'll hear many acupuncturists talk about a fifth season – late summer – which, theoretically we are in right now. But it isn't until Chapter 4 of the Nei Jing Su Wen that we see a mention of this fifth season.
Once again the centrality of Earth energy is mentioned and the fifth season isn't associated with a wind disease and isn't mentioned again for a couple of paragraphs.
Then, Chapter 5 returns to talking about the four seasons. But then talks about five.
What's the deal?
The Season of Politics
It all comes down to politics.
You see, the Nei Jing wasn't written by one author. It was written over the course of 600 years seeing the birth and death of many emperors and as a result, many regime changes.
The development of the 5 Phase System or the 5 element theory took 300 years, overlapping the writing of the Nei Jing by a relatively measly 200 years.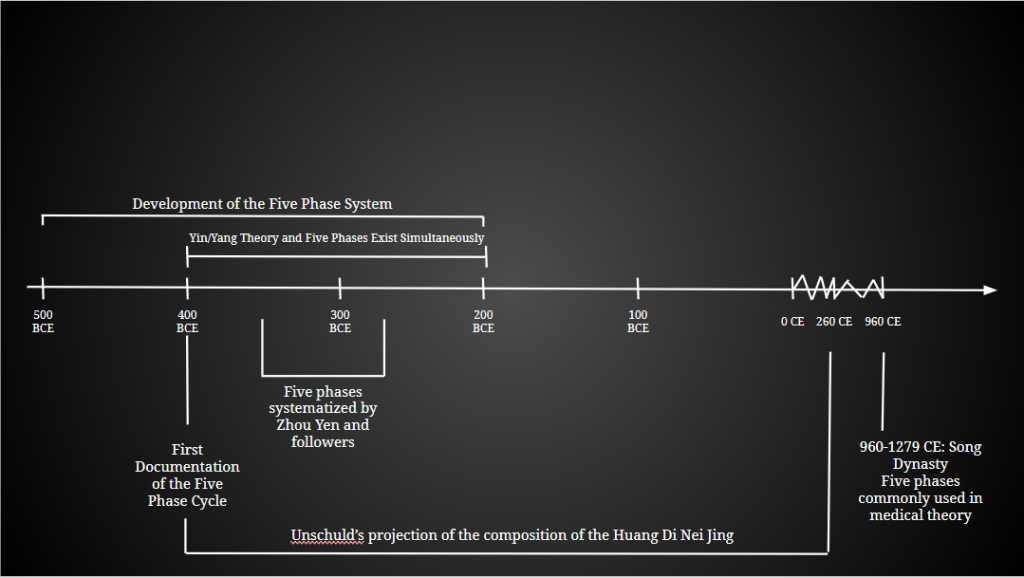 It wasn't until Confucianism and its love of political order was firmly established that the Sheng Ke cycle as we know it was firmly in place. That's the cycle of the elements that looks like this: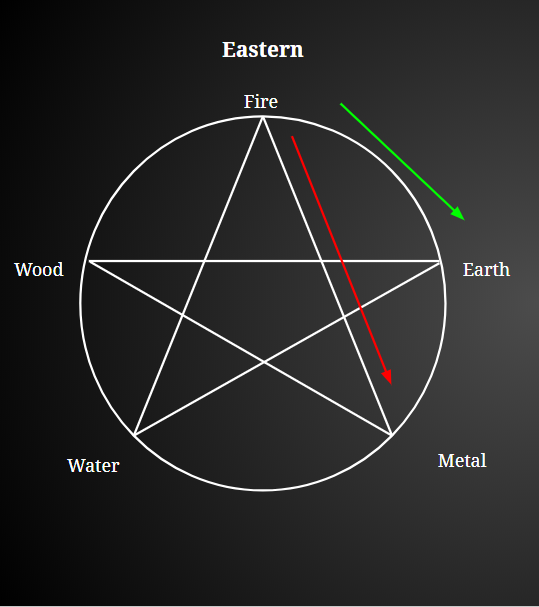 The 5 Phase system as we know it today has every element on the outer ring of the diagram. Wood (spring) leads to fire (summer) and to earth (late summer) and so on. This is the "generation" cycle and is denoted by the green arrow. But this method wasn't commonly used until the Song Dynasty – 960 – 1279.
Until then, the understanding of the phases looked more like the wheel of the year: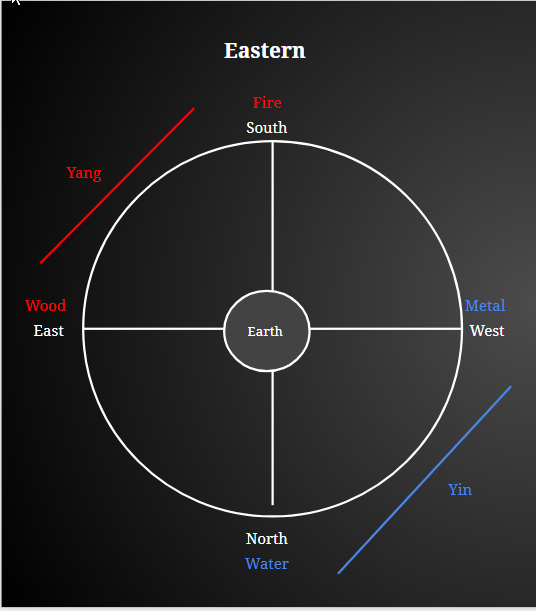 Earth still exists as an element in this season, and as such we need to address it when living seasonally. But if each season is three months and there are four seasons, how do you practice living in the fifth season?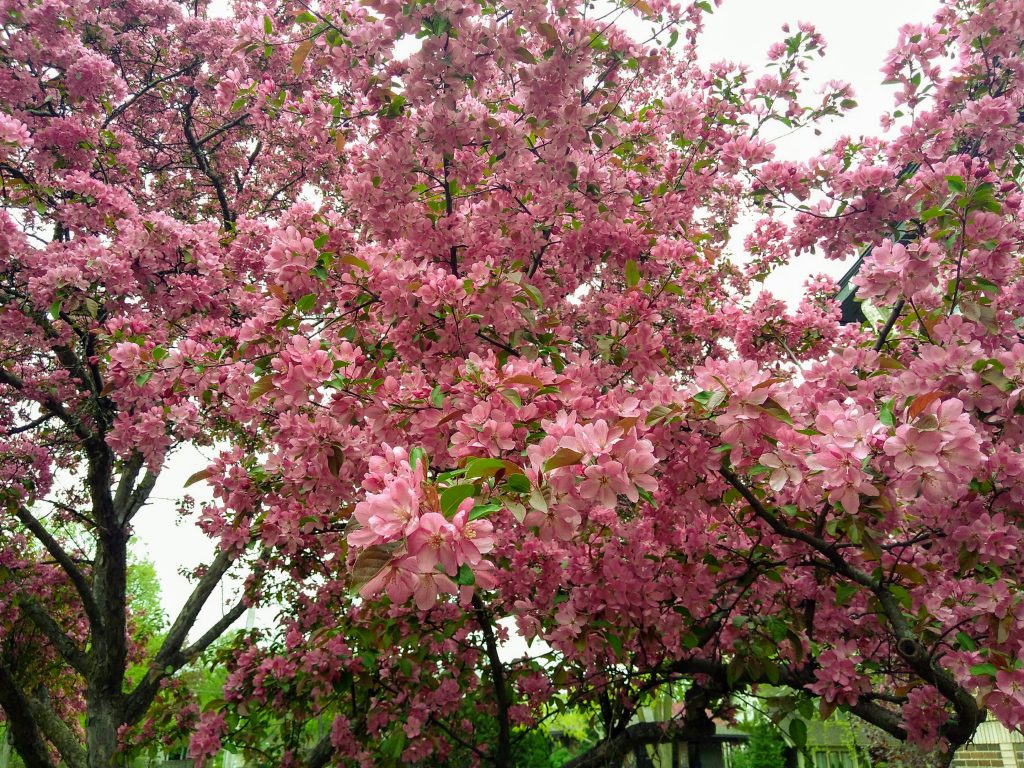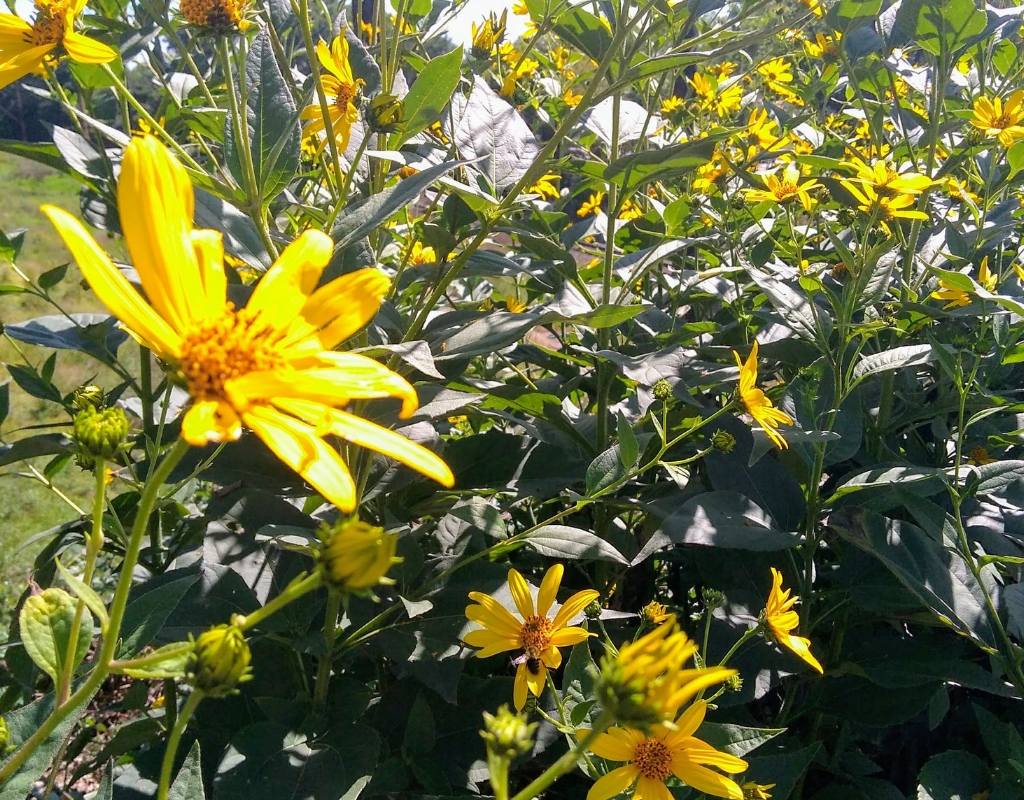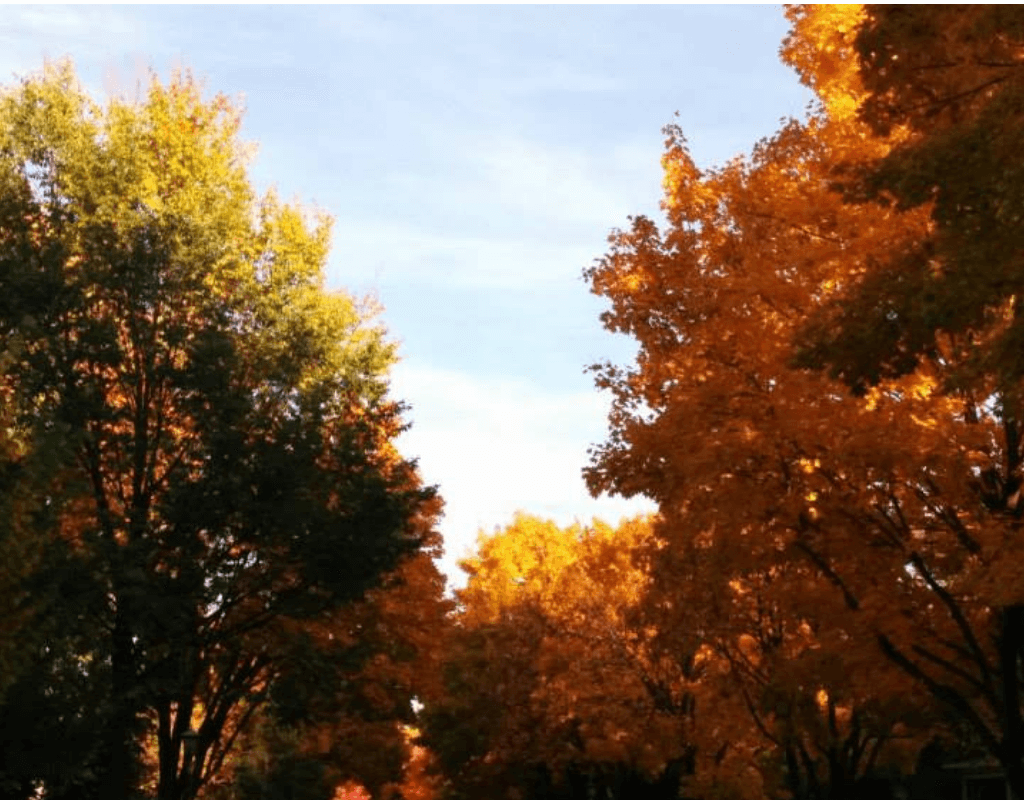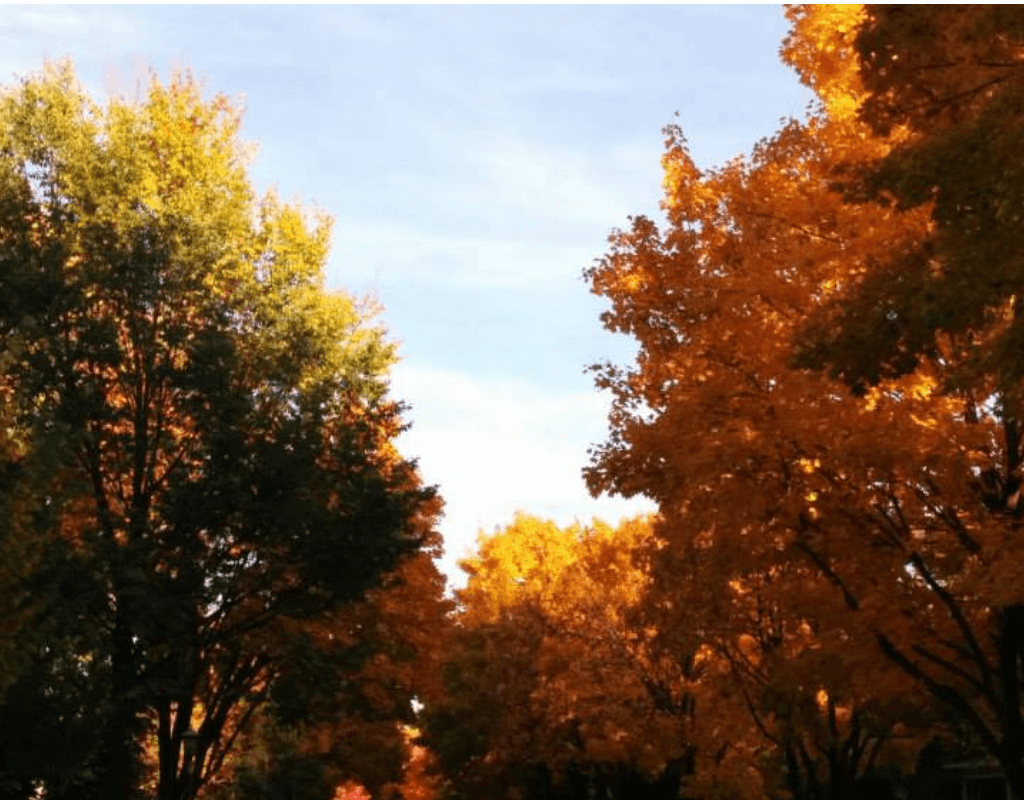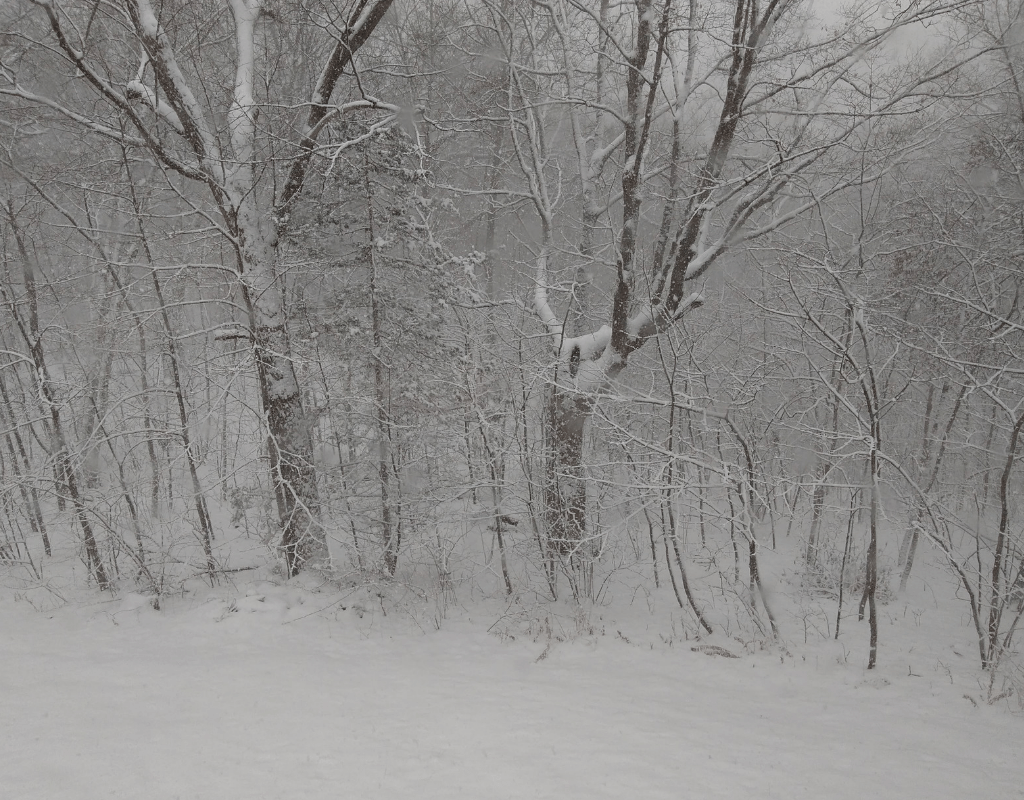 The Sneaky Season
Earth is about returning to your center. And you fall back to your center in the yin of the season – the end.
The Lei Jing, Zhang Jie Bin states
"The Spleen belongs to Earth which pertains to the Center, its influence manifests for 18 days at the end of each of the four seasons and it does not pertain to any season on its own".
These last 18 days are similar the yin moon phases, or the yin months but instead of being yin in the ways Metal and Water are about rest and nourishment, these 18 days are about returning to your core. And you return to your center every season.
This means that the fifth "season" occurs (approximately):
January 15th – February 1st
April 13th – April 30th
July 14th – July 31st
October 13th – October 30th
Want to know more about seasonal living? Schedule a free 15 minute consult
Living Seasonally in the Center
The Ancient Europeans had a fifth season too – Spirit. And the correlating element for direction and meaning in Chinese Medicine? Earth. Centering yourself seasonally is about coming back to your spirit. How beautiful is that?
According to the Nei Jing Ling Shu (Chapter 70)
"The symbol of 'Extensive Activation of Energy' which is the moderate energy of earth is the coordination of thickness of the earth energy with the harmonious energy of heaven. The energy spreads in all directions causing the activities of the five elements to become prosperous simultaneously."
So what the Yellow Emperor is saying is that without Earth, the other elements wouldn't prosper. In Ancient European traditions we see this too – Spirit is held above all other elements because without Spirit none of the the other elements would exist.
What it really boils down to is that Spirit and Earth are about transition – the transition of a basic energy or substance into one of the other elements. So this season is about gracefully accepting change.
A Lifestyle of Transition
Eating for change
When the world around us is changing it's important to eat simple, nourishing foods that bring us to the center and harmonize. My favorite recommendation is sweet potato (which many of my patients know) but other good choices include:
grains such as rice, Job's Tears and amaranth
veggies like corn, cabbage, peas, garbanzo beans and green beans
simple carbs and proteins like yams, squash, tofu
apricot and cantaloupe
Remember to eat in moderation – the fifth season is about harmony and centrality. Extreme dieting or feasting can upset our digestive system at a time we are giving it a chance to restore.
Paul Pitchford has much more detailed recommendations for this season in his book "Healing With Whole Foods" which is a regular resource in my home library. (affiliate link)
Find your center
Whatever helps you find your center and come more into yourself, do that. That may be journaling or meditation. Or it might be more active yoga or qi gong. I have some patients who find their happy place by going running. So long as you're doing it mindfully and it brings you back to yourself, do more of that.
A note of caution on more vigorous centering exercises, this isn't a time to push yourself for personal records. This is the season of moderation.
Breathing exercises
One simple method to literally find your center is to practice belly breathing. Sit or lie down and rest one hand on your belly and one hand on your chest. Spend some time intentionally and mindfully breathing. Your goal is that on your inspiration your belly hand will lift before the hand on your chest. And on your exhalation your chest hand will fall before your belly hand. Once you fall into the right rhythm, keep breathing like this for a few moments.
Garden
This is the time to find ways to get your hands in the dirt. While this may be difficult in the dead of winter, you could always consider a potted plant to add some life to your home (and naturally purify your air!).
You can take this one step further and grow your own food!
Consume only what is needed
The Spleen/Stomach systems are about how we process what we take in and, ultimately, the waste we produce because of it. Use this time to be mindful of what you take into your life – mentally, physically, spiritually and emotionally – and determine if you really need it. And if you find yourself taking in something you don't need or producing things that impact the world around you negatively, make some plans on how you can reduce that impact.
Nurture
While a lot of living seasonally is about nurturing yourself, this time is a perfect time for you to mindfully nurture others. Take a sick friend some food, volunteer at a food bank or shelter, help someone else in need. Imagine if everybody took 18 days a season (72 days a year!) to mindfully nurture the world around them.
Find the rhythms and cycles in your life that simply and harmonize
The fifth season is a time to look at your habits and routines. Is there something you can add that would make your life easier or healthier? Is there something you do that doesn't serve you anymore? Mindfully work with improving your life's rhythms.
A little late to the party
You'll notice that this blog post was written on the second to last day of the summer transition. It was somewhat intentional because these next few weeks are what are commonly considered the "long summer" and therefore the fifth season. But Wednesday, August 1st is the beginning of autumn and we're going to be turning ourselves towards relaxing into winter.
Without the appropriate three months to prepare, winter can be hard. And if we're spending a few weeks focusing on a transition at the wrong time of year we are out of rhythm with nature.
Even though this is being posted at the "wrong time" it will always be here for you to look back at through the magic of the internet. And keep an eye out for the next post on living seasonally so we can prepare ourselves for winter.
Get started living seasonally
Resources and links
Healing with Whole Foods by Paul Pitchford (affiliate link)
Featured photo and cover image by Jackson Jorvan from Pexels
Disclaimer: I am an acupuncturist in the state of Minnesota, and the information falls within my scope of practice in my state. However, unless I have directed you here as your homework I am probably not your acupuncturist. The information in this post is for general purposes only and does not constitute medical advice. As always, check with your own acupuncturist or primary care provider before making any lifestyle changes. This post does not create a patient-practitioner relationship and I am not liable for any losses or damages resulting or relating to the content in this post.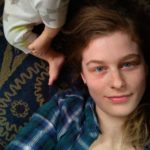 Jessica Gustafson is a licensed acupuncturist in St Paul, MN specializing in women's health and fertility. She loves working with patients through the Health Foundations Birth Center on Grand Avenue in St Paul as well as doing home visits in the Twin Cities area. Check out the services page for more information!
​
​Follow Reverie Acupuncture on Facebook, Pinterest and Instagram for updates!