Last night was the longest night of the year. Winter Solstice 2020 was, honestly, a breath of fresh air.
I mentioned this on my Instagram post for the solstice, but Winter Solstice has always been important to me. It's about connecting with those we love in the darkness, holding onto each other in the cold, and watching the spark of light ignite in the darkness.
That spark of light grows and grows bringing with it the fertility of spring and the fecundity of summer.
So with that, I hope you had a wonderful solstice because going forward our seasonal node work will be about nourishing that spark of light because today marks the beginning of the winter solstice seasonal node.
The information in this post is for general purposes only and does not constitute medical advice. This post does contain affiliate links, for which I will receive a small commission at no additional cost to you. For more information please see my privacy policy.
When we look at the diagram of weather terms, winter solstice falls at midnight, the bottom, the nadir.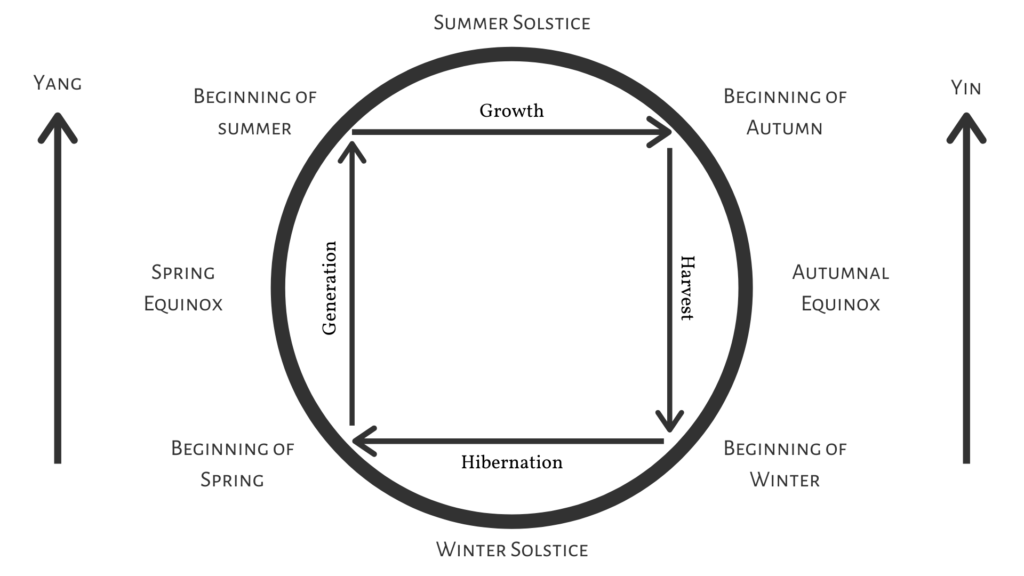 The year cannot get more yin than "the shortest day and the longest night".
But that doesn't mean that it's entirely yin. Nothing is ever entirely yin or entirely yang.
Once yin accumulates to a certain point, within it a new seed of yang is born and it begins the transformation from one to the other.
An example is pregnancy: an unborn baby is an accumulation of yin. It grows, accumulating more dense mass (yin) until, at some point, this yin accumulation must move (movement is yang) and be born.
Another example is menstruation: the endometrium is a collection of blood, a yin material. At some point, there is insufficient progesterone (yang) to maintain the yin material so we shed it. This movement is also yang and this restarts the movement towards ovulation.
We are at that point – birth or the beginning of the menstrual cycle. There is still some darkness and cold ahead of us, but from here on out the days get longer and brighter.
The Winter Solstice seasonal node – 冬至
The Winter Solstice seasonal node is called 冬至 or dōng zhì in Mandarin. While Winter Solstice itself is the most yin of the year, the Winter Solstice node is not the most yin seasonal node of the year – the Greater Snow seasonal node is.
This is because the Greater Snow seasonal node marks two weeks of getting dark, culminating on the most yin day of the year.
The Winter Solstice seasonal node begins the day after Winter solstice, running from December 22nd to January 4th. Because the days are getting longer (even if it is imperceptibly small amounts), this node is more yang than the Greater Snow node.
Recommendations for the Winter Solstice seasonal node
Since we are still in the depth of winter, many of the basic recommendations for winter still apply. But, because of the upward movement of yang towards the summer solstice, there are some slight changes that we can make to nourish that spark of yang.
Go to bed early
Going to bed and going to sleep are two very different things, which is something I try to tell the intern every evening. But resting is very important during this node, and frankly most of the winter nodes.
"Do not disturb the yang [qi]. Go to rest early and rise late. You must wait for the sun to shine."

Huang Di Nei Jing Su Wen, Chapter 2
Turn off screens an hour or two before bed, snuggle in with a good book or a soothing podcast. Emphasize rest as much as possible.
Even for primary parents struggling to get recalcitrant preschoolers to go to bed this is possible: get in their bed with them and read books, snuggle, turn on some soothing music. Ultimately this will help with their yin and yang balance, too.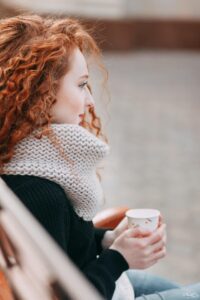 Stay warm
This one will come as no surprise to you if you've been reading any of the blogs since the middle of autumn – make sure that you're staying warm. Wear your socks, scarves, sweaters, and hats.
For those of you who are new to seasonal living, this is because we're trying to limit energy expenditure as much as possible so we can use it for necessary tasks.
Don't push yourself too hard
Traditionally, this seasonal node emphasizes not working too hard. This is not the time of year for double overtime or all-nighters while studying. But, unfortunately, these things are often out of our hands. If you have little control over how much you work, make sure that you're taking regular breaks and checking in with how you feel.
Find ways to work with what your body needs and it will support you.
What is in your hands is your New Year's resolutions.
Every year I send out a newsletter just before the New Year (or sometimes just after) reminding my readers of one very important thing: the middle of winter is the worst possible time to implement strict workout routines or restrictive diets. It's also the time most people do it.
If you are looking at altering your current health care goals, look for smaller things you can change in your lifestyle. Not only is this more sustainable in the long run, it will be better for your health overall.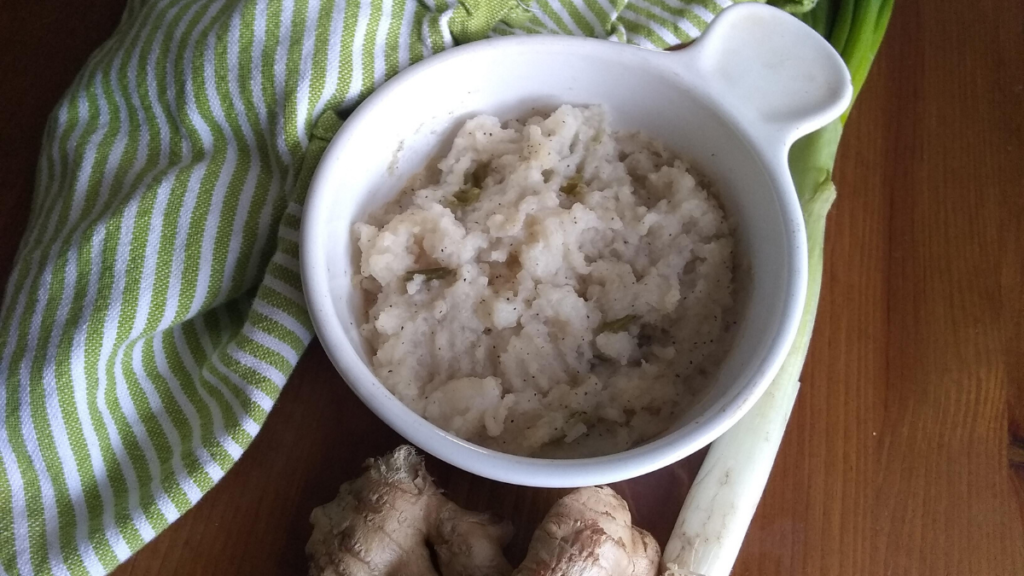 Eat warming and easy foods
This is still a time of year to eat warming foods but let's give this little spark of yang a bit more of a chance:
continue eating physically warm foods like soups, stews, congees, oatmeal, tea, and small amounts of coffee
avoiding physically colder foods like juice, smoothies, and salads
make sure that you're consuming red meat (if you're a meat eater) or black beans and kidney beans (if you're not)
eating roasted veggies
seasoning your foods with ginger, garlic, and black pepper
if you tolerate alcohol and sulfates, a small 1-2 ounce serving of red wine can also support kidney yang but over-doing it could damage liver qi and liver blood
Exercise gently
I talk a lot about rest on this blog.
A lot a lot.
Probably because it's been the most important lesson for me personally.
But there's no such thing as a life that is all rest. We all need movement. We all have that seed of yang within the yin of rest.
We all get to a point where we feel in our bodies and our gut that we should move, rather than our mind. This is arguably the transformation of yin to yang.
During this seasonal node, we can focus on moving and growing that seed of yang so that it doesn't stagnate and we can do that with movement.
I'm not talking about HIIT, marathon training, Crossfit, or anything super strenuous.
Exercise like yoga, tai chi, walks outside in the snow (properly dressed, of course) are perfect for this time of year.
It's simple…and it's complicated
The beautiful thing about seasonal living is that it can be as beautiful or as complicated as you want it to be.
For some people, seasonal living is as simple as dressing warmly in the middle of winter.
For others, seasonal node work is their jam; they modify their actions every couple weeks to live in harmony with the seasons around them.
And for those of us who have been doing it awhile, it's recognizing when the seasons of the world and the seasons of our life are incongruent and which ones our bodies need us to pay more attention to.
If seasonal living is something that you'd like to learn more about, make sure to sign up for the news letter list. You'll get your free copy of Seasonal Alchemy which is a deep dive on the why of seasonal living.
Resources and Links
Previous winter posts and other related posts
Season of Stillness
Beginning of Winter
Lesser Snow
Greater Snow
Winter Solstice
Small Cold
Great Cold
Water Element: Foundations in the Depths
Kidney Yang Disharmonies
Kidney Yin Disharmonies
Featured image and cover photo by Skitterphoto via Pexels
Disclaimer: I am an acupuncturist in the state of Minnesota, and the information falls within my scope of practice in my state. However, unless I have directed you here as your homework I am probably not your acupuncturist. The information in this post is for general purposes only and does not constitute medical advice. As always, check with your own acupuncturist or primary care provider before making any lifestyle changes. This post does not create a patient-practitioner relationship and I am not liable for any losses or damages resulting or relating to the content in this post.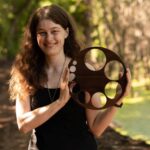 Jessica Gustafson is a licensed acupuncturist in St Paul, MN specializing in women's health and fertility. She loves working with patients through the Health Foundations Birth Center on Grand Avenue in St Paul and doing home visits in the Twin Cities area. Check out the services page for more information!
​
​Follow Reverie Acupuncture on Facebook, Pinterest and Instagram for updates! Please follow and like Reverie Acupuncture!